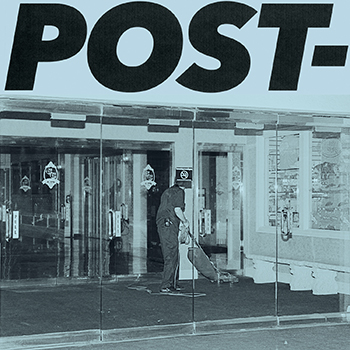 JEFF ROSENSTOCK
POST-

Jeff Rosenstock was an anxious kid who grew into an anxious adult and has also made a bunch of music along the way with a bunch of bands, most notably Bomb the Music Industry! who apparently pioneered giving shit away for free on the internet - or at least got some of the credit for it. Now he plays with his bi-coastal band of rad musicians, mixing punk heart with diverse instrumentation and occasional accuracy.
The new record POST- was written in a snowy mountain dreamscape, recorded in a marathon session and finished moments before it was released on New Year's Day. Most of it (like totally 51% minimum) was recorded live to tape, making the record a fiery distillation of Rosenstock's high energy live shows that push the boundaries of dynamics in rock music.
I hope. I don't know, that's what I was going for at least.
click here to buy this record from Polyvinyl!
click here to download the album for free!

1. USA
2. Yr Throat
3. All This Useless Energy
4. Powerlessness
5. TV Stars
6. Melba
7. Beating My Head Against A Wall
8. 9/10
9. Let Them Win

JOHN DEDOMENICI - BASS
JEFF ROSENSTOCK - VOCALS, GUITAR, KEYS, ETC.
MIKE HUGUENOR - GUITAR
KEVIN HIGUCHI - DRUMS
DAN POTTHAST - LAP STEEL
CHRIS FARREN - VOCALS ON "USA", "TV STARS" AND "LET THEM WIN"
LAURA STEVENSON - VOCALS ON "USA", "TV STARS", "9/10" AND "LET THEM WIN"
INT'L VOX & CLAPCO: GILBERT ARMENDARIZ, ANGELINA BANDA, SIM CASTRO, LAURA HAMMOND, JULIA LOAN, PUP, NEAL SHARMA, SHANNON TOOMBS
RECORDED, MIXED AND MASTERED BY JACK SHIRLEY
PHOTOS BY HIRO TANAKA
I wrote the songs and the liner notes. And did the layout. This is Jeff.
This record was recorded and mixed from November 28th - December 5th 2017 by Jack Shirley at the Atomic Garden in East Palo Alto, CA. a few days later, he MIXED IT SOME MORE AND mastered it. Jack makes great records, is affordable and you should make records with him. Thanks, Jack!
We rehearsed from November 24th - 27th at District Recording in San Jose, CA. That studio is also affordable and Ryan Perras makes cool shit there too. Thanks Ryan and also Ace Kimura for letting us make the loud loud noises.
Thanks Mikah at Starving Musician for helping us get our percussion stuff sorted. Thank you Dan Potthast, Shannon Toombs, and Skylar & Joa Suorez for giving me and John homes to sleep in while making this record. Thank you Lauren Brief for sending positive vibes at us all day long while recording.
Additional recording happened at Quote Unquote Records, Brooklyn, NY in April 2017 and alone in the mountains of East Durham, NY in January 2017. THE LATTER is also where a significant amount of the record was written. Kara Zuaro and Pete D'Angelo, I can't thank you enough for sharing your double wide trailer with me, it was snowy and magical.
ADDITIONAL Additional recording by Nestor Chumak, Chris Farren and Laura Stevenson at their respective homes in December 2017. Thank you so much for being part of this record y'all.
To the wonderful people at SideOneDummy, thank you for taking a chance on me when no one else would. Love you very very very very much.
A lot of the best things our band experienced in the last two years would not have happened without the tireless work and guidance of Jamie Coletta. It's hard to put it all into words, thanks for believin' in me more than I do, bud. The photos in this record were taken while touring off our last record, WORRY. Over the last two and a half years, Hiro Tanaka often joined us on tour to hang out and take pictures. Thanks for being so much fun and keeping us smiling, Hiro! Gomena! Thanks to the usual batch of friends who help with things I am inept with - Tom Kelly setting up guitars, Rick Johnson, Jake Katz, Justin Yates for doing sound at the big scary things. To everyone I forgot, I suck, I'm sorry.
To Katie Ellen, Hard Girls, Rozwell Kid, Menzingers Fam, Summers, Still Ill, Doe, Lurmin Silverton, Foley, Jess Locke Fam & Greg Bower, it was a pleasure to share the planet with you over the last year or so. Thanks Chris Farren & Gethard! Thank you Modern Baseball for lending us your van, and Sorority Noise for the trailer. To our friends in North America, thanks for spending your nights and breakfasts with us when we pass through town. Sara & Raph, Irene, Till, Iona Cairns & Nina & Allen as well, LouisE, Francis & Paul, Beeeeez, Matty Boo & Lanah too, Marnie & Gibbo and our wonderful giant Melbourne F A M I L Y that would take up three more lines - do you know what it feels like to be on the other side of the planet, sometimes where you can't understand anything anyone is saying and feel like you're at home and you can just kinda wander around like you live there 'cause you're with your buds? It feels awesome that's how it feels!!! Thanks for the feeling!!! AJJ, Smithies Fam, PUP Fam, Camp Cope, Bennies, Sidekicks, Worriers, Tiny Moving Parts, Dan Andriano, Kitty Kat Fan Club - so proud to be your pals, you all make such killer music.
Thanks Polyvinyl for taking on this record even though we didn't really know each other and i wanted to release it for free with no announcement, on a holiday when no press people are working. And even though you couldn't hear it until the day it was due to be sent to the record plant, for vinyl that would be released three months after the album was released digitally. for free. FYI at no point did POLYVINYL try to change my mind, say that what I was doing was stupid or a bad idea or any shit like that. That's fucking tight.
Andrew and Kay at Specialist Subject and Moorwoorks Records! THANKS FOR TAKING THIS SHIT WORLDWIDE BAYYYYYBEEEEEE yeahhhhhhhhhhhhhhhhh!!!!!!!!
Right before making this album I was lucky enough to go on a tour of Hawaii, Japan and Korea with The Bruce Lee Band. Thanks Mike Park for teaching me at a young age via Asian Man Records that making music does not have to mean financially exploiting anyone. For treating me like family and taking me to places I never thought I'd ever see playing in a ska band. GOCHI! Thanks BLB for being the best damn band of all time. Thanks to Johnny, Chris, Melaina, my new Hawaiian buds, Kemuri Fam, Skasucks and Jeff & Trash Yang Moses.
Yo! Jason Klein at Fender and Tim Dove at Ernie Ball! it was super sick to swing by and peek behind the curtain that one time. Thanks for hooking us up with free & cheap stuff that we like a lot. Ben at Vic Firth, Shirlene and Christian at Sabian, John at Pearl, Alex at Orange, Peter at Quilter - same goes to you!!! It's very nice of you to treat us so well!!! YES!!!
Thanks to all of our families, our partners and our friends for being supportive of our transient lifestyle of trash snacks, garbage toilets and spontaneous beauty. Especially enormous thanks to everyone who has listened to and supported our music. Listeners? Audience? Fans? I never know the right word. We're all just people doing our own shit hoping not to fuck it up, right? Anyway, vocabulary aside, thanks for giving us the opportunity to do the dreams we had when we were kids.
Fuck the NRA.
For Weezy, Tequila and Rocky.
See ya in the giggle pit.


This work is licensed under a Creative Commons Attribution-Noncommercial-Share Alike 3.0 United States License.