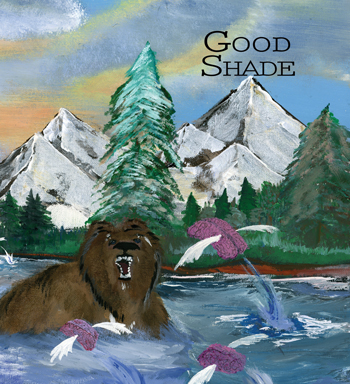 GOOD SHADE
LUNCH

Columbus Ohio's Good Shade, aka Shane Natalie, has made an epic record with Lunch. The record freely flows between power-pop, garage rock, 77 punk, psychedelic shit and it's all catchy and energetic and fun. Throw on yr headphones and get lost in it, baby!!!
click here to download the album for free!

1. Intro
2. 1st World Comic Book
3. Old Hats
4. This Is The Best One
5. Night Walk
6. Dearth
7. Styrofoam
8. Novembird
9. Free Lunch
10. God's Pawns
11. Freezer Burn
12. Puppet World
13 & 14. Garbage In, Garbage Out
15. Outro

Credits:
All songs written, recorded and mixed by Shane Natalie in the spring/summer of 2016 between the hours of 7-11AM using a series of bleeps and bloops along with technology. Mastered by David Willingham at the Echo Lab in Denton, TX.
VOX, Guitars, Synths, Percussion- Shane Natalie
Artwork by Derek Coalter and Good Shade
Exclusive 125 run AF Records Jacket by Evan Wolff
Vinyl produced at Musicol in Columbus Ohio.
Jackets manufactured by Solid Manufacturing
Current Performing Lineup:
Shane Natalie- Vox, Guitar
Joe Camerlingo- Guitar, Harms
Patrick Matanle- Bass
Austin Eilbeck- Drums
Thanks to: Austin Eilbeck, Ryan Eilbeck, Patrick Matanle, Derek Coalter, Evan Wolff, Jon Washington, Aaron Johnson, Joshua Long, Emily Jimmerson, David Willingham, Hillary Jones, Pat Crann and Shout Out Loud Prints, AF Records, Jeff Rosenstock and Quote Unquote Records, CSBYS, Used Kids Records, Kendra Sheetz, Dave Nobody, Alex Lichtenhour, Carl Athey, David Combs, Izzi Krombholz, The Sidekicks and all friends/bands/acquaintances/houses/bars that I have missed. Thanks to everyone who has helped and thank YOU for your support.

This work is licensed under a Creative Commons Attribution-Noncommercial-Share Alike 3.0 United States License.