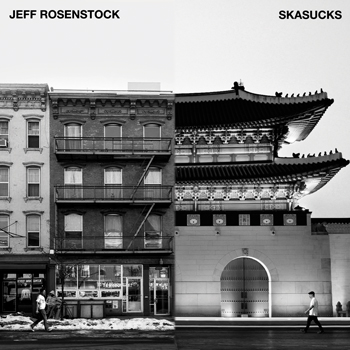 JEFF ROSENSTOCK / SKASUCKS
SPLIT 7"

In 2014 I got to go to Asia for the first time playing in The Bruce Lee Band. We arrived in South Korea very jetlagged and confused, but our buddies Jiwon, Jeff, Trash and Jinsuk took care of us and we very quickly became friends and a little less quickly drank too much soju. Jiwon & Jinsuk play in a sick ska band called Skasucks, Jeff & Trash have a record label, so we decided that if one of our band ever goes to the other country we'd do a split. Three years later, Skasucks is touring the west coast so we're like YEAHHHHH LET'S DO THIS SPLIT.
click here to download the album for free!

JEFF SIDE:
1 . NEVERGONNAGETITBACKAGAIN!!!
2. She's Got You
SKASUCKS SIDE:
3. Attitude
4. Midnight Cowboy
5. Suicide City
JEFF CREDITS
Recorded by Chris #2 Barker at The Space in Pittsburgh, PA from 12:00 PM - 4:00 PM on February 26, 2017 while the van was getting fixed. Mixed, mastered and e-mailed by Jack Shirley at The Atomic Garden in East Palo Alto, CA. Both Jack and Chris #2 are great, you should work with them, play the record backwards for their private phone numbers. 

"NEVERGONNAGETITBACKAGAIN!!!" was (mostly) written in total isolation in a double wide trailer in the Catskill mountains. The trailer belongs to my friends Kara and Pete who were kind enough to let me hole up there for a week in the dead of winter 2017 and work on some songs. It was very nice. Thank you both. 

"She's Got You" was written by Hank Cochran and originally recorded by Patsy Cline and Wikipedia says this, "Hank Cochran remembers calling Cline and telling her that he'd just written her next number 1 hit. She told him to come over to her house with a bottle of liquor and play it on the guitar for her and friend Dottie West who was visiting that afternoon. Cline was emotionally moved by its lyrics and loved the song so much that she learned it that night, calling up her manager and producer to sing it to them over the phone." 

Also thanks to Christine Mackie for getting the van fixed, Dan P. for teaching us patience with the van, The Menzingers Fam, Rozwell Kid and Mr. Smalls for not being mad that recording this made us late to the first day of tour, Chris, Jack, Josh, Patsy and of course you, YOU'RE THE REAL STAR!!!
SKASUCKS CREDITS:
Vocals: Jinsuk
Bass: Donghyuk
Drums: Myunghoon
Organ: Jiwon
Guitar: Youngmin

All Music by SKASUCKS
Recorded in Jan. 2017 at Thunderhorse Studios in Seoul, Korea
Engineered, Mixed, & Mastered by Jeff Moses & Kirk Kwon at Thunderhorse Studios
Contact Info: skasucksska@gmail.com www.facebook.com/newgenerationofska

Thanks to… YOU!


This work is licensed under a Creative Commons Attribution-Noncommercial-Share Alike 3.0 United States License.