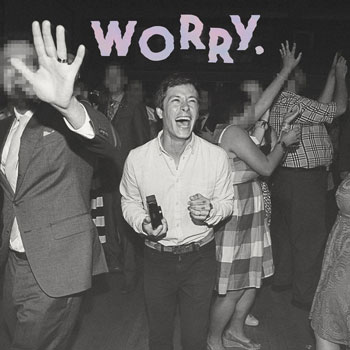 JEFF ROSENSTOCK
WORRY.

"The album you are about to listen to, WORRY., only furthers and exceeds the myth of Jeff Rosenstock, he who is mythical for being the most normal dude from a boring place any of us have ever met; mythical for sticking to his guns when all logic points in the other direction; mythical for writing melodies that stick in our brains and lyrics that rip our guts out; mythical most of all for being not mythical at all. He's just Jeff. It's not that complicated. But in a world where everything is driven by branding and image and hidden agendas, being not that complicated makes him perhaps the most complicated artist I know." -- Chris Gethard
click here to download the album for free!

1. We Begged 2 Explode
2. Pash Rash
3. Festival Song
4. Staring Out The Window At Your Old Apartment
5. Wave Goodnight To Me
6. To Be A Ghost...
7. Pietro, 60 Years Old
8. I Did Something Weird Last Night
9. Blast Damage Days
10. Bang On The Door
11. Rainbow
12. Planet Luxury
13. HELLLLHOOOOLE
14. June 21st
15. The Fuzz
16. ...While You're Alive
17. Perfect Sound Whatever

Mostly recorded from April 26 - May 2 at the Panoramic House in Stinson Beach, CA & May 3 - May 11 at The Atomic Garden in East Palo Alto, CA. Some overdubby shit was done at Quote Unquote Records in Brooklyn, NY. 100-person gang vocals recorded at 1-2-3-4 Go! in Oakland, CA.
Recorded, Mixed and Mastered by Jack Shirley.
John DeDomenici - Bass
Kevin Higuchi - Drums, Percussion, Vox
Mike Huguenor - Guitar, Vox
Jeff R. - Vox, Guitar, Keyboards, Saxophone, Etc.
Additional Vocals by Angelina Banda, Giles Bidder, Lauren Brief, Sim Castro, Christine Mackie, Dan Potthast, Jack Shirley and 100 nice people in Oakland.
This record contains a sample from Jesse Michaels' Indie Rock Blog, used with permission. Thanks, Jesse.
Cover photo by Hiro Tanaka.

This work is licensed under a Creative Commons Attribution-Noncommercial-Share Alike 3.0 United States License.