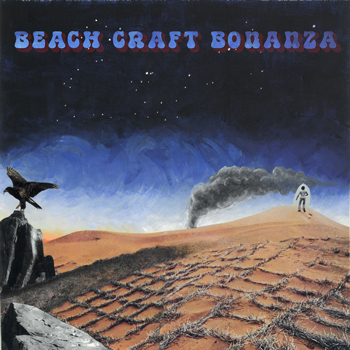 BEACH CRAFT BONANZA
CRADLE TO WAVE

For many years, Chris Baltrus has been making thoughtful and innovative surf-inspired punk with both The Livingbrooks and Let Me Crazy. His new project amps up the psychedlics significantly, but still proves that his bands are only capable of making great records. Turn it on, turn it up, space the fuck out.
click here to download the album for free!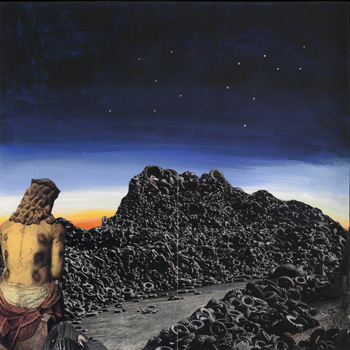 1. What We Du
2. Randall Flagg
3. Trust Fund
4. GED
5. The Atomic Breeze
6. Escape From Oxy County
7. Beach Buzz
8. Toes To The Nose
9. Yr Excused
10. Unsafe At Any Speed
11. Earth Day
12. Cradle To Wave
13. Under The Blood Moon

Chris Baltrus - Lead Vocals and Guitar
David Aria - Drums and Percussion
AJ Bellise - Fender Bass, Radio Voice
Chris Morell - Fuzz Guitar and Vocals
Basic live tracks engineered by Tom Malinowski as performed by Beach Craft Bonanza, Bogart Beach, Huntington NY, August 1st and 2nd 2015. Additional overdubs completed at Cellar Door and Bogart Beach, Fall 2015. Mastered to Fostex 1/4" inch tape by John Alexander Busi at the Space, Huntington NY, Winter 2016. Field recording by David Aria during the total lunar eclipse of September 27th and 28th 2015, Dix Hills NY. Artwork by Damo.
All compositions Baltrus/Aria/Bellise/Morell unless noted. (c)2015 Beach Craft Bonanza
This album is dedicated to the memory of Jordy Verrill

This work is licensed under a Creative Commons Attribution-Noncommercial-Share Alike 3.0 United States License.
Randall Flagg
(Moving slowly down the only road. Answers to no one he rides alone, Randall Flagg)
He's cutting a mean stride down US-51 / He looks like anybody you'd see in the street
He grins, birds fall dead / He spits, the grass yellows and dies
He can call the wolves, and live with the crows
His name is the name of a thousand demons
His name is Legion. He's coming (Stephen King, The Stand)
Trust Fund
that's not what I said, that's not what it means
always ends this way, tapped out party scene (the scene)
changing of the gauze, changing of your mind
crush it in your hand, spoil it on the vine (divine)
Whoa. That's the way it goes? Selling out our souls for you?
mine the underground, boy bands in disguise
cover me in studs, new-wave was a lie (alive)
Whoa. That's the way it goes. Putting on a smile.
Powdering my nose for you.
everyone in black, tattoos all around
patches on your back, trust fund underground
forty at the door, put it in the tank
"Gotta get to Fest." Run back to the bank
Whoa. That's the way it ends?
Buttering you up for them? For you? For Me.
GED
I never thought it'd end this way, I always play a losing game
All night and day it's all the same, I've only got myself to blame
Alone in front of MTV, my only friends are beer and weed
I live in a hole, I scrape out the bowl, Someday I'll earn my GED
So think about it: nothing's gonna change
You sing about it because it's all the rage
Complain and complain, garbage that's filling your brain
Ten years gone by in a flash, ten dollars in my secret stash
If all goes well, I'll find something to sell (if I can get rid of this rash)
I'm at the end of my rope. I'm on that slippery slope
of booze and blow and Domino's, can't see the tip of my nose
I've thought about it and something's gotta give
They always try to tell me how to live
Now that i'm fucked up and cracked-out and blacked-out
I'M TIRED OF BEING A WALKING STIFF
The Atomic Breeze
the atomic breeze is coming to your town, get on your knees and pull the blinds down
a silent scream rattles the door down, get on the road, we're leaving town
it's all over now, you can't turn around, don't cry just leave it all behind
whatever happened to them, you're leaving this world
whatever happened, you're such a selfish girl
it happened all of a sudden, while you were digging for change
while you were checking your messages, while you were turning the page
while you were hiding, while you were sleeping, while you were going insane
it happened all of a sudden and things will never be the...
Escape From Oxy County
(instrumental)
Beach Buzz
fading fast. all the beaches turned into glass
shallow waves. all the creatures' fossil remains
radiation plume. greens turn into blues. the Sun swallows the Moon
painted desert tan. no trees. no seas. no air. no one to care
Toes To The Nose
(instrumental)
Yr Excused
I had insomnia for days. I thought I was the one to blame
Another name checked off your list
Walk away. No goodbye. I'm such a fool
It's all right, i'm insane. What's your excuse?
Pull my head out of the dirt. Brush the dandruff off my shirt
Taste the bile in your throat
I'm still here. No regrets. More, better, best
It's all right, i'm insane. What's your excuse?
Unsafe at Any Speed
(Morell, Aria, Baltrus, Bellise)
I'm rollin' like a freak on wheels, but I know i'm gonna get there someday
A pack of smoke is all I need, let a young man fulfill his deed, yeah
Chrome-eyed with a side six slant, she's a harbinger of Valiant
A Rogue Rebel baby AMC, cuz i'm your Comet crash on Mercury
I'm running like a freak on wheels, but I know i'm gonna catch her someday
Let a young man fulfill his deed, i'm unsafe at any speed
A king of nothing and a prince of speed, I'm Unsafe At Any Speed
Earth Day
ever think of what this place could be?
three pills to put yourself to sleep
making all the same mistakes we did before
turning everything to trash
two of these and call me in the morning
but I don't wanna hear your problems now
ever feel like someone's watching you?
turn the dial, dial's turning you
following the path, you think you've got a choice?
medication just to drown out all the noise
but I don't wanna hear your problems now
ever feel like someone's watching you?
turn the dial, dial's turning you
Ever feel like this can't be true?
Cradle to Wave
hair of straw, glass of green, eyes as wide as your blood is blue
river deep, mountain high, still the same but I don't know why
home again, off the bus, kiss the ground as it turns to dust
on the beach, after the gold, still a kid but you're getting old
lost on the highway, headed back to old ways
burning faster through the weekdays
around the next bend, another old friend
try to see you on the weekend
black cloud get over me
black cloud get over you
get bent. i'm getting over you
running out, close the door
just like a hundred times before
sorry ma, just let it be
black cloud get over me
black cloud get over you
get bent. i'm getting over you