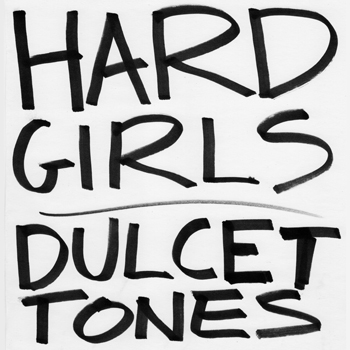 HARD GIRLS
DULCET TONES

Two new songs and a live one from Hard Girls, the best band ever from San Jose, one of the best punk bands of our generation made up of members of the other best punk bands of our generation.
click here to download the album for free!

1. Dulcet Tones (Demo)
2. Flying Dream (Live from Somewhere in the USA '15)
3. Get Up
Flying Dream (lyrics by Morgan Herrell)
Get Up (lyrics by Morgan Herrell)
Dulcet Tones (lyrics by Mike Huguenor)
Dulcet Tones recorded by Skylar Suorez,
Flying Dream recorded live somewhere in the South.
Get Up recorded by Morgan
Hard Girls are Mike Huguenor, Morgan Herrell, and Max Feshbach

This work is licensed under a Creative Commons Attribution-Noncommercial-Share Alike 3.0 United States License.
Dulcet Tones

I heard those dulcet tones
ring out in the coming
gloaming of the evening.
You said they sound like home,
but I don't know...

I need to be alone,
but you won't let me indulge
that terrible side
that feels condemned to roam
like a dog on the streets of Bucharest.

So we continue on.
The sun dips west until it's totally gone.
You said, "some nights it seems like a dream
that it could ever come back again."
You're just a bird in clothes,
your tiny heart beats furiously inside
your tanktopped brittle bones
as you trace
a circle with no inside.

I heard those dulcet tones.
Flying Dream (Live from Somewhere in the USA)
I had a dream I left my body
At the top of a hill and went flying
Out into nothing, out over everything
And I owned it all
From the sun's corona
To the blades of grass where I'm laying
From the tallest mountain
To the meanest creature crawling in the mud
I had it all
Get Up
I know you said you'd wait up
but I didn't think you'd still be around
when I got home late from work again
and I don't want to get up
please make it Sunday again
then Monday you're off
and then the week begins again
I know how to work a job
you try to make each other less miserable
it feels like I've been sinking
back in to the wrong life again
I'm trying not the sweat it
it was harder than it was the time before to pay it
I don't want to get out
I just started going now
keep on