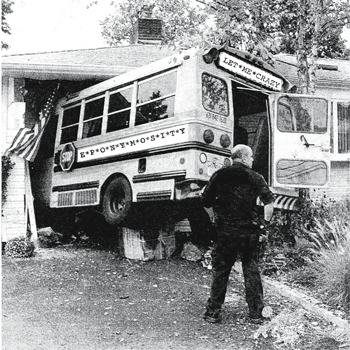 LET ME CRAZY
EPONYMOSITY

The long-awaited final LP from Long Island's Let Me Crazy is a conceptual psychedlic thrash-surf explosion that is best played loud enough to rip holes in your speakers and make your neighbors call the cops.
click here to download the album!
1. Intro
2. Bliss
3. Artcore
4. Eponymosity
5. Life's A Beach
6. Escape
7. Scene, Not Herd
8. Charlie's Point
9. What's In Name
10. 899 Seconds
11. Maiden Voyage
12. Thanks A Million
13. Outro

LET ME CRAZY "EPONYMOSITY"
Recorded Spring 2012 at Continental Recording Studio, Long Island City NY. Engineered by Mike and Matt Gevaza, produced by Let Me Crazy. Mastered to analog by Alex Busi in Huntington NY. All songs written by Chris Baltrus and Let Me Crazy.
Copyright 2012
Chris Baltrus - Vocals and Guitar
Jake Freeman - Drums and Samples
James Hagmaier - Bass Guitar
Chris Morell - Guitar and Vocals
Backup vocals, crowd participation, and moral support:
Jamie Frey, Brendan Morris, Alex Last, Russ Hymowitz, Andy Torrents, Dave Weinstein, Brian Last, Tamara Porras, Deidre Cantone, Liz Titus, Jake Roren, Chelle & Dirk, Sean Rahilly,
Anthony Greco, Jesse Savran, Greg Raposo, and Jerome
Extra special thanks:
Ron Demay, Eric Milam, Sam Gentle, Jeff Rosenstock, Matt Kurz, Mick Cantone, Josh Freeman, Matt Emmerich, Damo, Fabian, JT, Joey Steel, Owen the Soundguy, Tom Conklin, Steve Beery, Bomb The Music Industry, The Fad, Highway Gimps, Eleanor, Brooklyn What, Marsh Hens, The Men, Pink Flag, Playing Dead, Boogie Brains, Broosevelts, Sarcasmo, Two Man Advantage, Gang Way, Out Of Step, The Brass, Barnaby Jones, Forthrights, Fashion Week, HR, Ted Leo, Cheap Girls, Sidekicks, Stuck Lucky, Jukebox Romantics, Los Bungalitos, The Trowels, Everyone at Bogart, 1617 Foucher, Sealab, John Bosch, Hobo House, and anyone else who listened all the way through. Great set, guys.

This work is licensed under a Creative Commons Attribution-Noncommercial-Share Alike 3.0 United States License.
please note "let me crazy" in the subject or body of your donation.
e·pon·y·mos·it·y - n - an abstraction of the adjective eponymous, the condition of a literary or musical work
being self-referenced without actually being self-titled

BLISS
Bliss – like your first time
Bliss – like your last time
Bliss – like your first kiss
Everything that you miss
there's no heaven
there's no hell
repetition
make it last
Bliss – like your first time
Bliss – like your last time
Bliss – Like your first kiss
Born again in the past
Close your eyes, what's the first thing that you see?
A street, a couple of cars, maybe some trees
You look around and it's just like you remembered it
Brick walls, picket fences, scrapes on your knees
What's beyond the fence? Beyond the walls? down the street?
A hand reaching down, but you don't know where it leads
An uncertain future, full of possibility
Or a means to an end, sleepwalking endlessly?

ARTCORE
Picture yourself in a museum
An artifact of moments passed
A taste of wine turns to turpentine
Just try to make the party last
Create
What you destroy
Slash the canvas
Back into the void
Wake up to another day of nothing
Soul unraveling at the seams
Another sip of inspiration
Another ship of salvaged dreams
What does it mean?

EPONYMOSITY
Drawing a line in the sand
Derivative, boring and bland
Start another band
Shake another hand
Do it all according to plan
"Don't wanna close another show"
"Drummer's gotta go to work tomorrow"
"Hey, you got some shit that we can borrow?"
Aaaargh. So frustrating!
We're not paying dues, we're paying debts
Blood without the sweat
Drugs without the sex
Fake tears, it's all you fucking get
Eponymosity
Don't believe a thing that you read
The critics agreed
They planted the seed
Now bury it before it starts to breed
E – P – O – N – Y – M – O – U – S
It's just a word, doesn't mean that much to us
Plant a tree
Eat a peach
It's our fucking policy
Give us eponymous
Give us eponymous
Eponymous Eponymous EP

LIFE'S A BEACH
Locked in an institution
Long Island Sound pollution
Can't lose what hasn't been found
Suburban dumping ground
No sun
No surf
No waves
Scorched earth
No tricks
No trade
No fun
No heroes' parade
Turned down the wrong one way street
Atlantic backbeat
Saw you on page seventeen
Obituary queen
Glass eyes
Black lips
Bad vibes
Bad trips
No sun
No shade
Dried up
Decayed
Don't go
Don't go
Don't go

ESCAPE
Come unstuck with me
The Atom Bomb hides under the eaves
The birds, the bees, the seeds
What's mine is yours
What's your is mine
The fruit is on the vine
The planets, aligned
The shattered remains
The sound of crashing waves
Let's go, let's go away
Escape

CHARLIE'S POINT (instrumental)

SCENE, NOT HERD
Drunk on yourself, under the spotlight
Your paranoia, they're always right
Poisoned plans, you're choking on cyanide
Hollow man, dead on the inside
No heart
No beat
How many times will you walk the same street?
How many ways are there to end the game?
Spin the bottle, hit repeat
High on your horse, under the weather
Shit in your veins, mask the pain
Sound of mind, temporary blindness
Shivering
From the heartache you bring
Try to amend it
Start to believe as you pretend it
Treading deeper in the trench you dug
Push the button, pull the plug
No way to end it
How many ways can you defend it?
Pacing circles in the rug
Push the button, pull the plug
Denial. Anger. Bargaining. Acceptance
WHAT'S IN A NAME?
hoping for something to break
bury your face in a plate
complaining that everything's fake, but…
Can you tell me what's in a name?
Ten-year cycles signal change
Spell it out, then sell it out
Same ideas, rearranged

cover your eyes from the glare
shell shock as the cameras stare
laughing under the mask that you wear, but…
you tell them, what's in a name?
Hands are tied and your head in flames
They sign you up, you churn them out
(remember) ugliness is the rage
Kill the goose with the golden egg
Swinging noose as the image fades
Double platinum, beyond the grave
Don't be so afraid

899 SECONDS
brain is fried, well's run dry
just waiting for your ship to arrive
celebrity reality
anything to keep the dream alive
raid the cellar on your psychodrama
and shove your story on the world
but nothing on the screen is ever the same as you perceive
another scandal, too bored and drugged to care
ignore the rumors in People Magazines and let them feed
fill the mold
with solid gold
now everybody wants to be your friend
bought and sold
swallowed whole
a new life is just around the bend
lose the pride
or step aside
it's time to re-invent yourself again
praying that you find another trend
if god can't help you, Simon Cowell can
Amen
MAIDEN VOYAGE
Now open your hands
The wounds are still bleeding
You're nailed to the wall
The vultures are feeding
Steal…everything you were taught
Even-keel, never stray from the plot
Brokered deals as society rots
Contempt for what you've wrought
Now open your eyes
And stare through the darkness
Encased in the glass
Obscuring and blurring the path / the past
Pride…as the sails are unfurled
You're born to die, that's the way of the world
Left behind, hoping someday they'll learn
Each passenger must wait their turn
Can you tell them, what was your name?
Tossed aside on the baggage claim
Was it worth it? Was it?
That's the price of fame…

THANKS A MILLION
Thanks a Million
Thanks for playing
thanks for staying
Thanks a lot
You stole our slot
Thanks a Million
Thanks a Million
great set guys…