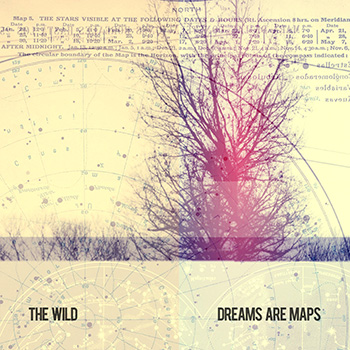 THE WILD
DREAMS ARE MAPS


The Wild are a punk band from Atlanta. More than any band They completely embody the philosophy that punk is freedom and anyone who has witnessed their boundless energy live can attest to that. Dreams are Maps, recorded by Laura Jane Grace (Against Me!), harnesses the intangible magic that The Wild have into ten songs. Get into it!

click here to download the album!
click here to buy the album from Asian Man Records!


1. There's a Darnkess (But Also a Light)
2. New Houses
3. Dreams are Maps
4. A Better Life in New Bedford
5. Riverside
6. Songs by Heart
7. Cut from the Cloth
8. Five Senses (Everything Will Change)
9. Places We've Never Been
10. Come Home


This Record is dedicated to Anthony Poynter


"We have to create culture, don't watch TV, on't read magazines, don't even listen to NPR. Create your own roadshow. The nexus of space and time where you are now is the most immediate sector of your universe, and if you're worrying about Michael Jackson or Bill Clinton or somebody else, then you are disempowered, you're giving it all away to icons, icons which are maintained by an electronic media so that you want to dress like X or have lips like Y. This is shit-brained, this kind of thinking. That is all cultural diversion, and what is real is you and your friends and your associations, your highs, your orgasms, your hopes, your plans, your fears. And we are told 'no', we're unimportant, we're peripheral. 'Get a degree, get a job, get a this, get a that.' And then you're a player; you don't want to even play in that game. You want to reclaim your mind and get it out of the hands of the cultural engineers who want to turn you into a half-baked moron consuming all this trash that's being manufactured out of the bones of a dying world." -Terence McKenna

To buy a physical copy of this album visit www.asianmanrecords.com.


Recorded at Total Treble Studios in St. Augustine, FL by Laura Jane Grace and Produced by The Wild in August, 2012.

Mastered by John Golden at Golden Mastering in Ventura, CA.

Album Photography by Stephen Yang, Jake Mayday, and Dianna Settles.

Album design and layout by Dianna Settles and Witt Wisebram.

The Wild is: Bryan Scherer (Drums, Guitar, Vocals), Dianna Settles (Vocals and Tambourine), Steve D'agostino (Banjo, Pedal Steel, Vocals, Fiddle, and Guitar),
Dakota Floyd (Bass, Vocals, and Bad Puns), and Witt Wisebram (Guitar, Vocals, Harmonica, and Piano).

Special thanks to Sean Bonnette for additional vocals on 'A Better Life in New Bedford.'

We want to thank our Families, friends, and fans for their unconditional support! Mr. Cat, Kitty Magic, Opal, Laura Jane Grace and her wonderful family, Mike Park and Bob Vielma and the rest of the Asian Man family, Linda and the rest of Anthony's family, Sean and Ben and the rest of Andrew Jackson Jihad, Timeshares, Laura Stevenson and all of those beautiful Cans, Bomb the Music Industry!, Spraynard (R.I.P.), The Taxpayers, Pedals on Our Pirate Ships, Sundials, Hold Tight!, Rubrics (and the rest of DIY Greenville), Chicken Little, Chris Clavin and Ghost Mice and everyone in the Plan-it-X family, Jake Mayday, Run Forever, Vacation, Glocca Morra, Dylan Sizemore, Logan Greene, Kite Party, Cheap Girls, Good Luck, The Max Levine Ensemble, Ramshackle Glory, The Queers, Tia and Joe and The Fellow Project, Tiny Teeth, Kelsi Grammar, Kudrow, Archipelago, Delay, Brook Pridemore, Aki and Mayu and all of Worthwhile Way and Eager Beaver Records, Ryan Azada, Jeff Rosenstock for taking a year to mail my keys back to me (either him or gat dang USPS), Rick Vee, Dani Kordani, Chris Parker, Pete Pie, Ted Lee, Eli Culp, Marc Ferguson, Celia Blank, Wonderboy, Michael Boogdish, Lauren Hicks, Bill Cotter, Chris McDonald, Ryan Harvey, Jason Anderson, Will Bangs, Joe Queer, Mike Harpring, Andrew Ellis, Ben Z., Sarah Cavrak, Darren Boyer, Josie and Edric Figueroa, Rebecca Heinegg, Chris Eugene, Hilary Carter, Alex Gannon, Ian Nye, Mark Mooradian, Tim and Teresa Hungerford, Stewart at No Breaks, Timmi Sterritt, Dan Treiber, Adam Gnade, Andy Thompson, Bob Bernstein, Mari Atari, KT Austin, Andy Sunshine, Melody Millage, Jim Harner, Alex Kulik, Graham Turner, Stephen Cohen, Teo Sagisman, Russell Glaser and Michelle Robertson, Jack and Alyson Decker, Stephen Yang, Zac Apte, Nathanial and Pam (and Emily) Bruss, Jeff and Ayla Wolk, Jamie Riotto and Ellie Casson, Ben Herring and Eliza Sydney, The Hurlburt family (and Phillip), Gersh, Greg, Lee and the Ping-Pong Champions of Atlanta, Our Kickstarter supporters: Raney Azada, German Ferrufino, Chris Principato, Chris Scanlon (Sledge), Tim Garvey, Garrett Ampersand, Drew E. Hinton, Steve Szyndrowski, and Double Cola. Thanks to everyone that has supported us, offered a floor, a meal, or a show, or let us park 'Carol' in front of their house. We love you all and are more grateful than you could ever know!


Please be in touch! thewild@riseup.net
Visit us online – thewildatl.com, facebook.com/thewildatl, twitter.com/thewildatl
Booking - Andrew Ellis - aellis@apanewyork.com




This work is licensed under a Creative Commons Attribution-Noncommercial-Share Alike 3.0 United States License.
SUGGESTED DONATION: $5 US
please note "Dreams are Maps" in the subject or body of your donation.
THERE'S A DARKNESS (BUT ALSO A LIGHT)
I used to kill myself to feel like I was alive,
But since I lost you friend, I learned it was a lie…
All those walls we build so tall and wide,
It's a coward's way to be alive.
Well… the last few years I've been going out of my mind,
trying to grow up but not feel old at the same time…
I hid the pain that lived inside…
I was hopeless; you gave me a reason to fight.
I always wake up on the road,
singing songs about going home.
I'm a hypocrite and a ghost,
I haunt the cities between the coasts,
so I know that the ones that we love never really leave,
so I'll see you in the rearview… smiling from the backseat.
We're for the ones who scream love…loud at the night.
There's a darkness, but there's also a light.
All these memories get jumbled,
like some book that I read…
as a kid and could imagine a thousand ways for it to end,
but I know you can't shed dead skin without shedding a few tears,
so all those times I wanna disappear, I know you'll be right here.
…and to the wolves I'll scream love… in your name like a flame.
You taught me to never be ashamed.
NEW HOUSES
All of these corporate media giants,
corrupting our minds and leaving us empty…
We have to remember to breathe deep tonight.
Cause I cannot stand it for one more second…
All this waiting, and wishing, and hoping.
All these forces that leave us dejected,
will cover our minds and leave us breathless.
And every time we speak to each other our universes collide.
And all that's left of you is hoping and beating, and keeping me on
tonight!
We cannot stand it … this fucked up planet.
Atlanta's been wrecked and her children abandoned.
You could open your eyes…
To the heartache in losses, the beauty in forces…
We'll build new houses of love and affection.
With everything we have to put in our weapons…
We'll give this world a new direction
And every time we speak to each other our universes collide.
And all that's left of you is hoping and bleeding, and keeping me on
tonight!
DREAMS ARE MAPS
We waste all of our time chasing some finish line,
a point of success we defined in our minds.
A spiral of stress, fear, and doubt…
Oh I used to think that's what life was about…
Until I laid my eyes on something pure,
more beautiful than I had ever seen before.
She reminded me it's the journey that counts,
One day the good that you've done will come back around.
Everything that you know will fade…
Don't let the deeds of your past become a trap.
Everyday is destroyed to create… a new dance with fate,
a chance to learn from our mistakes.
I used to look at the world through a half fucked-up glass,
until Tony told me that my dreams are a map.
I thought about this eviction scene…
The American dream ripped from under our feet.
Some people think that a vote sets them free,
well tell that to the family asleep on the streets.
When I woke up in a park surrounded by friends,
I knew these felon politicians wouldn't stop us again.
Everything that you love will fade,
Sometimes we know that things will never be the same.
Everyday we strengthen our hearts,
we learn that every end is just another start.
A BETTER LIFE IN NEW BEDFORD
They crossed the line at midnight, on the fourth of July...
under a moonlit sky, to the Texas side…the river shined in their eyes.
They clinched each other's hands, oh they reached the promised land
…and they held their breath as the flashlights lept over their heads.
They made their way to Massachusetts, where the sun hardly ever shines, and they planted a seed, an American dream, inside the Bristol county line. That seed it sprouted roots, like all things cared for it grew.
With families to support, the women went to work at that job in New Bedford. With no papers to show, no stamps on a passport…they sewed the straps onto army backpacks in that factory downtown. On the day of the raid, 300 federal agents came. With their guns drawn out and their dogs barking loud, they pushed the pregnant women on the ground. With helicopters and pain, they're example it was made. 'If you come on our dirt looking for work, this is the price you will pay.' She said, 'please, please, please.'Oh my family they need me.' As they forced her on a bus, she thought of the ones that she loved, wondering where their mother was.
A man, he is a man... regardless of the color of his skin.
Don't matter where he's going or where he's been cause who we are is within. It's so hard to believe in all these papers that I read,
cause all those outside plots to spill the melting pot are just fuel for a fire burning hot. I stood behind the barricade, by the park where the march was to start...I see them congregate with signs that say, 'god bless the usa.'
RIVERSIDE
I spent a week up north trying to get my head straight,
but I guess you can't run from the things that you hate…
The ones that let you down, the loneliness, and the sounds
of a city that's coughing up a sky that's brown.
So take me down by the riverside,
where I can breathe in deep and open my eyes.
Sometimes we need a chance to look inside,
and if you don't like what you see, you've got to change your mind.
… And where the road leads I'll never know,
but no matter what, I will never let you go.
The asphalt looked soft, the faster we drove…
speeding towards a Tennessee lightning storm.
If our souls depart and we get split up in the dark,
I know that I'll find you by that spark in your heart.
I saw a man that sailed on the seas of change,
and with the tides his strength went and came,
but his heart and his mind always rode the swell.
His body he gave, but his soul he'll never sell.
… And where the road leads I'll never know,
but no matter what, I will never let you go.
SONGS BY HEART
Let the songs you know by heart… be the light you grasp in the dark.
I wanna throw this pain right off my back, cause when you feel like
giving up, I guess it's best to laugh. Put some joy into the world, and it'll give it back. Perfection is subjective… please remember that.
All the years come crawling back… to haunt you with the failures of the past. I was a lonely kid, but it heals with time. You gotta keep the ones you love right by your side… Get lost and feel small under western skies… the stars can bring you back when you're dead inside. The sunset burns my eyes, as the perfect day dies. In the morning we will rise, with another chance to try.
I think there's beauty in the worst… a light that one day will burst…
Through the cracks in the walls and they'll all fall apart. We all have love and fear at war in our hearts. Just believe in yourself without a doubt…The wolf that we feed always wins out. The sunset burns my eyes, as the perfect day dies. In the morning we will rise, with another chance to try.
On the back roads… in a small town, where my grandpa put his roots down,I was holding your hand, thinking about…what it means to go home.At the gates of Ft. Benning, where the killers learn their trade,
I saw a woman climb the fence… to the other side…when they took her away,She said…'Although we may not know what's on the other side,If we pause to our fear then it's all been a lie. Life's a ring of fire, you better step inside. Get some rest when you're dead… we are alive.
CUT FROM THE CLOTH
Trapped inside a body… hard to cope.
Who's to say what truth lies inside your bones?
Your heart beats, and it will guide you to your own path.
They'll judge, but don't get lost. They'll throw stones,
when she's cut from the cloth.
FIVE SENSES
Many roads I've wandered in the dark.
I thought of faith as a flashlight for the weak of heart…
that my own light could shine brighter than a flame,
it's just we've all got some demons to tame.
You put it all together, like a puzzle in your mind
…and held it up for everyone so delicate and high…
now you don't even try, but dry your eyes.
No, don't you start to cry.
Everything you feel is real,
But five senses won't suffice to reveal…
The true love that surrounds our lives.
We just need ways to let it all inside.
A decision in a second, can determine your whole fate.
Even the brown haired, blue-eyed boy is slowly turning gray…
and everything will change, but don't be afraid.
No, don't you be afraid.
…And like that girl I knew with that tattoo, on her arm of a crane.
Said…everything will change, but don't be afraid.
No, don't you be afraid.
PLACES WE'VE NEVER BEEN
The first time that I met you, you said you weren't afraid to die
With every stranger that you met you felt more alive
We slept on floors and found our homes in places we've never been
We'd drive the 15 hours just to hear that song again
When the sun's the only star you see for months at a time
Rather than forget their glow, you stare into the sky
And swallow the blinding light
And every person that you meet will someday die, but
The things you learn from those you love can keep them all alive
Like giving up the comfort of routine for new horizons
And moving forward when it hurts to dry your sunken eyes
When the sun's the only star you see for months at a time
Rather than forget their glow, you stare into the sky
And swallow the blinding light
COME HOME
You were like a dream that came to me, when I needed it the most.
A breath of life to a withered soul… a ghost...a flood of hope.
Now there are ones in this world who accept it as it is.
They say, 'its been, so it must be.'
Then there are ones like you that haunt my heart with visions of what could be. You're life was a masterpiece, you'll never complete, so I'll try forever.
… And the heartbreak's not as bad as it seems, you'll find in your dreams, just how it all fits in. In the darkness there's always a light, a reason to fight…for what we believe. I looked for you in clouds and towns, and streams and woods and lakes. I thought if I searched hard enough that I would see your face. In the patterns of the trees, I learned what's real is what we make…
and blinded by the Midwestern sky, I realized you survive inside.
So go home, and be with the ones you love.
Cause in the end lost friends will live in our hearts, not up above…
No god in the sky, cause it's all inside… the future is up to us.
And everything will Turn! Turn! Turn! and come back around again.
It's the spiral of time, the course of our lives, the way it's always been.
So I know somewhere down the line, I'll be with you my friend.
We choose our paths, but don't feel trapped, cause we can always start again.
So go home, and be with the ones you love.
Cause in the end lost friends will live in our hearts, not up above…
No god in the sky, cause it's all inside… the future is up to us.