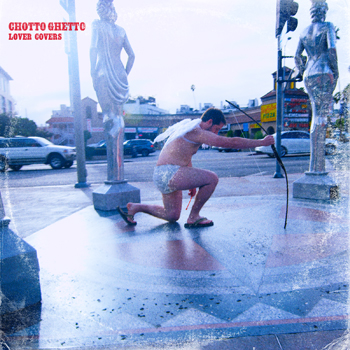 Chotto Ghetto
Lover Covers

Lover Covers is Chotto Ghetto's interpretation of some of musics best love songs. The record is comprised of songs by artists such as Labi Siffre, Haircut 100, Sam Cooke, ZZ Top, Tears for Fears, Ghost Town DJ's, George Harrison, Ian Dury and the Blockheads, Madness, Kirk Van Houten, The Spinners, Charlie Rich, Radiohead, Prince, Neil Young, Ringo Star, and Pantera. It comes to you this Valentines day to set the mood with that very special someone, or to at least keep you from a booze filled depression. Enjoy, Chotto Ghetto's Lover Covers!

click here to download the album!

Chotto Ghetto is
Chris Candy - Vocals, Keyboard, Trumpet
Fletcher Alliston - Bass, Vocals, Guitar, Keyboard
Jody Giachello - Drums, Percusion, Vocals & Keyboard
Chris - Guitar & Vocals
Dan Tino - Guitar
Additional musicians
Jeff Rosenstock - Saxophone on Favorite Shirts (Boy Meets Girl), King of Broken Hearts, and It Must Be Love
Steve White - EV Trumpet on Wake Up And Make Love with Me
Jon Caligiuri - Banjo and Guitar on True Love Waits, There's Nothing In The World Like Love, Legs, and I'd Have You Anytime
John DeDedomenici - Ows on Wake Up And Make Love with Me
Mixed and Produced by - Fletcher Alliston
Engineered by - Chotto Ghetto
Mastered by - Hans Dekline
Chotto Ghetto would like to thank, Tim and Linda Gedemer, Source Sound, Lenny and Sue Giachello, Ian Coates, Jeff Rosenstock, Samrod Shenassa, and everyone at Quote Unquote Records, Rick Darge, Hans Dekline, Rose Candy, Xan, The Allistons, Bomb The Music Industry! and to all the lonely people in the world remember Chotto Ghetto will date you!!
Dedicated in loving memory to Bryan Carlstrom

This work is licensed under a Creative Commons Attribution-Noncommercial-Share Alike 3.0 United States License.
SUGGESTED DONATION: $5 US
please note "Chotto Ghetto Lover Covers" in the subject or body of your donation.