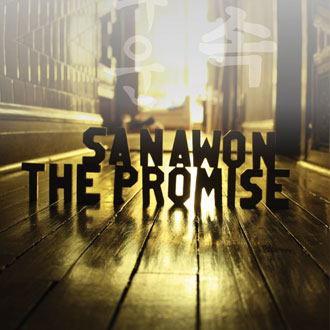 SANAWON
THE PROMISE

Incredibly excited to finally be releasing a Sanawon record! This Chicago-based indie-pop trio's latest release (and first for Quote Unquote) is a five-song music video-documentary entitled "The Promise", loosely based on the stories of the parents of singer songwriter Jenny Choi and their lives as immigrants in the States. This record is a very real look at the isolation and troubles that accompany the hope that makes life worth living. Yes!!
WATCH THE FILM:

CLICK HERE TO DOWNLOAD THE ALBUM!

1. Clark
2. April
3. Drifting
4. Stay
5. The Promise
6. Another Year
Sanawon is:
Jenny Choi: Vocals, Piano, Keyboards
David Johnson: Guitars, Bass, Keyboards
Philip Stone: Drums

Special Appearances:
Elizabeth Choi: Violin on "Drifting"
Josh Caterer: Vocals on "Stay"

Engineered and mixed by David Johnson at Tricycle Sound Studios, Chicago, IL

Additional tracking by David Johnson with assistance from Justin Yates at Atlas Studios, Chicago, IL.

Mastered by Bob Weston at Chicago Mastering Service.

"Clark"
Music and Lyrics by Jenny Choi
Directed by Philip Stone
Additional footage shot by Jenny Choi

"April"
Music and Lyrics by Jenny Choi
Directed by Johnny McGuire
Starring Charles Kliewer

"Drifting"
Music and Lyrics by Jenny Choi
Directed by Philip Stone

"Stay"
Music and Lyrics by Jenny Choi
Directed by Philip Stone
Starring Jemo Jemo
and featuring Licha De La Pena

"The Promise"
Music and Lyrics by Jenny Choi
Directed by Jienan Yuan
Starring Jenny Choi

Thanks:
Atlas Studios, Mr. and Mrs. Choi, Josh Caterer, Elizabeth Choi, Jemo Jemo, Johnny McGuire, Charles Kliewer, Jienan Yuan, Jeff Rosenstock, Geoff Stone, Billy Giannopoulos, Licha De La Pena, Bob Weston, Adam Pfahler, Wilson Neate, Holly Rushakoff, and Rupert Brown.

Exclusive Digital Download Bonus Track
"Another Year"
Music and Lyrics by Jenny Choi

Jenny Choi: Vocals, Piano
Adam Pfahler: Drums
David Johnson: Guitars
Engineered by: Shawn Biggs at Paradise Studios, San Francisco, CA.
Mixed by: David Johnson at Tricycle Sound Studios, Chicago, IL
Mastered by: Bob Weston at Chicago Mastering Service
The Promise
by Sanawon
All rights reserved
Ona Records 2011


This work is licensed under a Creative Commons Attribution-Noncommercial-Share Alike 3.0 United States License.

SUGGESTED DONATION: $5 US
please note "sanawon" in the subject or body of your donation.
CLARK
Wood paneled, tattered walls
barely contain your booming voice.
And it sounds just like Elvis.
You nod at me in the back,
as I lip synch along.
Mom shreds her crazy riffs.
She's skating circles around the old 'Sweet By and By.'
It's your favorite anthem.
As you sing, 'Hallelujah', I sing, 'Where were you?'
when I couldn't sing along
and I couldn't make out the tune.

You will always be my tragic, fallen hero.
But I can't give up if I try.
And those you've wrecked will fall like tumbling cards around you.
But somehow I will still survive.

But I can't help myself
You're such a rock star up on that pulpit stage
So here I sit again.
Musing on the last time
You rolled up your sleeves
delivering those blows with your hallowed be thy name's

I sing, "Hallelujah". Can you give me an amen
for lasting this long
and seeing this to the end?


APRIL
Where should I go after another grizzly fight?
My knuckles raw, my cheekbones scraped, my heavy heart feels like
A haunting melody that's stuck on the repeat setting.
I'm just a shell of my former self,
and I feel like dying.

But I'll always choose the truth over any convenient lie
And I'll hold on with courage and with all of my might.

I study your face and all the furrowing new lines.
Where dreams deferred and disappointment settled in with time.
I'll give up anything to be the things we thought we'd one day be.
Let's do it now. We've come so far on this wounded flight.

What will it take to save you? Unburden you? The daggers that inflame your thoughts,
Oh can't you see, it's only me?

DRIFTING
Watch you swiftly stray from the program
and I'm always on edge of when you'll blow
Cos there will be a time when I won't worry where you are.
And often times I find that I resent you.
Blowing me into your vicious fight
and when you always do the things that please you all the time.

There you go, drifting again.

But eventually, the cracks start showing
and who survives?

Who knew what would be waiting for me across the sea?

STAY
No one said it'd be easy when all that you have is gone.
Scared out of your mind, you close your eyes and jump for your life.
I'm way past any reason, hope is not a guiding light.
Will you trust my desire to do what's right and stay in this fight?

So please stay with me.
Come on and stay with me.
And I know it doesn't make much sense now, but one day it might.

And I'm not sure what I'm doing, but I'm asking you to be
braver than you've been before you ever knew about me.

THE PROMISE
White trench coat. Two duffel bags. Photograph of him. An outdated map.
Plane engines roar. I've said my goodbyes. The ink from his heartfelt letters stains the palm of my hand.
Now here I am in a strange, strange land. Pursuing a promise beyond one broken man.
In a crowded train with you by my side. We survey the city's clean skyline and there's hope in your eyes, at the tender age of five.

Because I didn't know you then. But I knew I had to stay alive, because one day you'd arrive.

For many years, I was patient. Endured many fears that you'd never know me at all.
Despite failed language, or expectations, you were the one I came so far to meet.
Wasn't sure if you'd love me

ANOTHER YEAR
Another year, still pretty clueless. Frankly, my dear, not much has changed.
Lover, I fear you've given me time but it's perfectly clear the plan's still the same.

Another year rolls by, swaddled in pretty lies,
You ask too many questions and it's making me mad.
I've had a bad year, let's just leave it at that.

I know you think my jokes are all stupid and tacky and weird.
They've lost all their charm.
If I grew a beard then maybe you'd notice
But we're too old to care to be half-alarmed.

I know it's hard to fathom why, but I've got my reasons and I'm fine with not bad.
The later it gets the more I feel quite sad.
No more excuses just myself to blame for causing you heartache and unneeded shame.