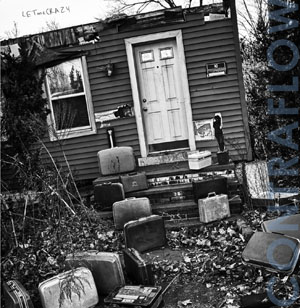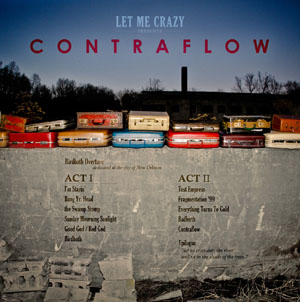 LET ME CRAZY
CONTRAFLOW

Let Me Crazy's second record is an opus that breathes the garbagey shit times and confusion that comes with growing up in a world that constantly seems to be breaking. Loud and haunting, chilling and exuberant... this is one hell of a fucking record. Recommended if you like The Buzzcocks, The Who, great albums, etc.
click here for the whole album!

1. Overture
2. I'm Stayin'
3. Bang Yr Head
4. The Swamp Stomp
5. Sunday Mourning Sun
6. Good God/Bad God
7. The Birdbath
8. Test Empress
9. Fragmentation
10. Everything Turns to Gold
11. Badbirth
12. Contraflow
13. Epilogue
Produced by Let Me Crazy. Engineered by Tom Malinowski
Basic tracks recorded live at Cellar Door Studios, Amityville NY, October 2010
Mastered by Joel Hatstat, Athens GA
Art by Jake and Josh Freeman
All songs written by Chris Baltrus, except for "Epilogue," written by Chris Morell
Thank you Ben, Glenn, Katrina and Edna, for inspiration
Let Me Crazy is:
Chris Baltrus – Guitar/Vocals
Jake Freeman – Drums
James Hagmaier – Bass
Chris Morell – Guitar

This work is licensed under a Creative Commons Attribution-Noncommercial-Share Alike 3.0 United States License.

SUGGESTED DONATION: $5 US
please note "let me crazy" in the subject or body of your donation.
I'm Stayin'
All alone, it's Friday night. Sitting in my room
Don't wanna walk, I don't wanna drive, I don't even wanna move
I'm staying right where I am
I guess I'll drink alone again
Nobody gives a damn
I fall asleep and start to dream about the way things should have been
My skin is turning blue and green and the air is getting thin
I'm staying right where I was
Not gonna change a thing because
Nobody ever does
You heard about my problems, you heard about my girl
You think that you heard everything, but you've heard nothing at all
I'm staying where I belong
Not gonna say what's right or wrong
What's right or wrong?
What's Wrong?
Bang Yr Head
Why don't you come out anymore?
You don't pick up my calls or answer your front door
When will you stop your worrying?
"Don't look back," they say. "Don't waste your life away."
Everyone's allowed a few bad days
You're not alone. You're not all by yourself
So bang your head against the wall, just like everyone else
You're not afraid to know when you were wrong
So many dents in plaster, they could have been great songs
I know nobody's perfect
The only thing to do here is drink until you're sick
When will you stop abusing you?
"Don't look down," they say. The choice is yours to make.
Everyone's allowed a few mistakes
And dream about the girls you never fucked
The times you pushed your luck when you were drunk
And scream about the secrets that you hid, the things you never did
It's not too late. It's time to make your bed
And Bang Your Head
Sunday Mourning Sun
Five years ago, headed south alone, set my guns to roam
Head down, not fully grown
Twenty-four and bored, looking for something more
Found myself a home, to await the storm
Crashing, burning, clouds turning so slow
What did I know?
Water lines, ripped-up signs, dead fruit, hanging vines
Frozen in time. August Twenty-Nine
Memory turns to rust, waste deep in the mud
Grown-up, headed home from the life I loved
Sunday Mourning Sunlight Sleeps in the Glow
To where? I don't know
As the rain pounded the back window
the road ahead uncoiled like a snake
The Houston skyline seemed to grow more distant
I saw Lot's wife turn to salt
Hours turned to days, days to weeks, and I knew…
It might be months before I'd see you again
Good God/Bad God
Good god, what have I done? Why is this happening to me?
Is this a dream, or just TV? I don't believe what I see
Devastation. Channel Three
Crashing, Burning
Why is this happening to me?
What kind of god are you? What kind of fool am I?
Running, Hiding
I'm saying goodbye
Bad god up above, why are you doing this to us?
It's not a dream. Where's my gun?
I don't believe what I've done.
Cover the windows. Draw the blinds
Don't look behind you. It's Gone.
No matter what you tell yourself to believe
BAD GOD IS LEADING YOU ON
The Birdbath
Heart beating in my brain
Keeps repeating my name
Birdbath waters receding
From the hurricane
Fragmentation
Split in two, split like a log, folded into a box
Asleep in the days, abandoned dreams, scars on the face of the clock
Hallucination tears me apart. I stare into the wall
Unfolded again, pieced back together
And they can do no harm at all
It happens every time
Stay the course, ride the party line
Nobody suffers. There is no crime
When the enemy is undefined
The Sun, it crossed the sky
As night raged into day
We shook hands and said goodbye.

Everything Turns To Gold
When I was young and dumb, I was the king of my own world
The clouds covered my eyes, and they cried
I looked up at the rain. The wind, it carried me away
I started to scream but I couldn't hear a single sound
And when the Sun came back again
And when the trees grew back again
I landed on my feet, but all I wanted was to fly
Sometimes it's black and white
You do everything that you're told
And everything will turn to gold
Other times it's kinda grey
You're wondering if this is the way
Still, everything will turn to gold
Badbirth
And you can always change your mind
But you should never close your eyes
Someday you'll have to decide
How do you want to spend your time?
You say it's all in your head
You feel that something ain't right
They think that you can ignore it
Today? Tomorrow?
Wash your anxieties away, the empty promises you made
Something is going to change. Everyone's a little strange
He dealt you this hand, part of the plan, made you this way
Bad God dragging you down, stealing the crown
Now you're insane
And you can never change your mind
And you can never close your eyes
SOMEDAY WILL NEVER ARRIVE
Contraflow
I had a friend
Tattooed his brain, walked off the edge
Hopped on the last train, straight to the end
Did you like what you saw?
Did you write it all down?
Did you smile, or did you just stare at the ground?
Did you know what they'd do? I was praying for you
I'm not waiting for you
Waiting for you