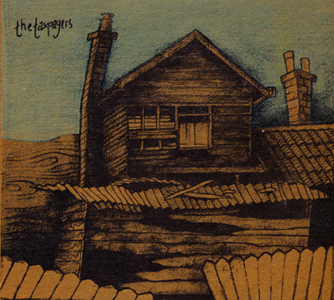 THE TAXPAYERS
A RHYTHM IN THE CAGES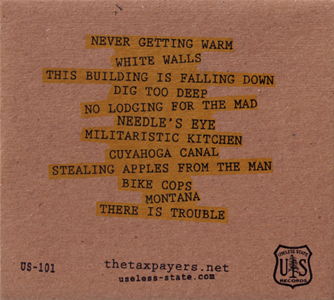 Out of Portland come a band that is equally poppy as they are noisy, explosive as they are muted, fun as they are fucking serious. A Rhythm in the Cages sounds like a party on fire. Everyone's about to die, but at least we're all laughin' about it. Or at least kinda. Recommended if you're into anything.
Click here to download the whole album!
Click here to purchase the CD from Useless State Records
1. Never Getting Warm
2. White Walls
3. This Build is Falling Down
4. Dig Too Deep
5. No Lodging for the Mad
6. Needle's Eye
7. Militaristic Kitchen
8. Cuyuhoga Canal
9. Stealing Apples from the Man
10. Bike Cops
11. Montana
12. There is Trouble

The Taxpayers are:
Rob Taxpayer – Guitar, vocals
Noah Taxpayer – Percussion, vocals
Phil Gobstopper – Bass, vocals
Danielle Steal – Accordion, vocals
Nate Taxpayer – Bass, vocals (2007-2008)
A number of our friends helped with other instruments on this record. Joe Kashishian played guitar and sang on "This Building is Falling Down" and "There is Trouble". Alex Bekuhrs played saxophone on "Dig too Deep". Adrienne Hatkin of Autopilot is for Lovers played piano on "No Lodging for the Mad" and sang on "There is Trouble". The following singers and shouters sang on "Bike Cops" and "Montana": Jay Awesome, Jawn McPhillips, Crimetrain, Ceightie MacTatters, Big Al, Sam John, Nina, Danielle Steal, Zach Archer, and Shelby Dorneden. Guitar Zack Fischman played the piano intro to "Dig too Deep" and the harmonica on "Montana".
This album was recorded and mixed by our friend Michael Love of Raised by Television in 2008.
The beautiful front cover album art was created by Alicia Moreland with great care. Layout and Design work was done by Noah Phillips.
All the songs, music, lyrics, and artwork associated with The Taxpayers are copyrighted under the Creative Commons license. This means you can feel free to do what you want with it (cover it, reproduce the artwork for fliers, etc), as long as it's non-commercially (we're looking at you Navy advertisements and Gap commercials).
Thanks to everyone. For everything. For reals.

This work is licensed under a Creative Commons Attribution-Noncommercial-Share Alike 3.0 United States License.
please note "Taxpayers" in the subject or body of your donation.
(SUGGESTED DONATION: $5)
LYRICS and EXPLANATIONS!!!
Hello, and welcome to our album. To say that the significance of new creative output seems diminished, or even unimportant, in recent years, is an understatement. We've personally never been of the belief that art holds more weight than simple actions and events. To say, however, that individual or collective expression is an indulgent relic from simpler times, is unfair. In fact, I believe that today, things like new books, records, paintings, and other such inventions are that much more significant due to the urgency of the times.
The songs found herein were created out of the half frustration/half joy of "stuckness". The situations which are inescapable. There is not always an easy escape route in life, and sometimes you've gotta figure out how to live gracefully under pressure until an exit sign emerges. In some cases there is no exit. Either way, it's important to keep the lights on and not let the sheer overwhelming nature of it all do you in.
It's difficult, but possible, to be stronger than everything that gets thrown at you. In the meantime, keep looking out for one another and stay well.
Seeing you Soon,
The Taxpayers
NEVER GETTING WARM
Dubrovnik is perhaps the most visited tourist destination in Croatia, and is a city of extreme opposites. A few examples: Though widely considered a calm Mediterranean getaway, it boasts the highest concentration of landmines throughout and surrounding the city, remnants from the Croatian War of Independence which ended less than 15 years ago(!). Hundreds of people have been killed from these landmines since 1996. Also, while the climate is generally considered mild - random and frequent thunderstorms permeate the city with unusually strong and cold winds.
In Dubrovnik, in a building, on an antique floor.
With the cutting edge of glass against the skin at the throat.
From the basement to the attic, running back and forth.
In the middle of a room through the ice and the storm.
We took the dope that we had, packed up as much as we could, threw a rock through the solitary window in the room.
Took the clothes on our bodies down to the open bag of trash, laying to rest every goddamn good thing we had ever had.
From the door, to the stairway, to the street, through a gathering storm;
Never getting warm.
In Dubrovnik, at a pawn shop, an exchange for more.
In the mail at the building an arraignment for court.
From the shelter to the elements, running back and forth.
From the shelter to the elements, right back to the store.
We took the cash that we had, packed up as much as we could, took the trash with the clothes to the backpacks and the goods.
Stuck a plug in the basin, possessions intact, started the faucet, the sink overflowing the edge.
From the door, to the stairway, to the street, through a gathering storm;
Never getting warm.
WHITE WALLS
I recently moved into a new house and the place is a fucking wreck: the basement has termites, the oven has dead mice in it, there are fucking cockroaches (!) (anyone from the pacific northwest can tell you how uncommon cockroaches are in this climate), the neighbor's house recently got shot up in a drive-by, and the place is just generally falling apart. The interior, however, with people and animals now living in it, is actually warm and pleasant. A few blocks away is a massive Nike outlet store that stands alone, menacing and sterile, challenging customers to enter. 2009 was a bad year for places like this, and they've been liquidating all their previously overpriced slave-made apparel. I was recently struck by how hilariously more applicable this song is to the Nike outlet than it is to our new house.
White walls! Bad setting! Black paint! Big holes!
This company is totally fucking bankrupt. The lights stick in the folds. The rats that live in the basement have multiplied and spread by the score. This business is failing in lateral folds; productivity must rise! More units must be sold! You get an elemental wasteland for the price of living in the heartland.
White walls! Bad Setting! Black paint! Big holes!
This is a difficult way to live.
THIS BUILDING IS FALLING DOWN
Dedicated to people with answers, who insist upon and enforce beliefs against all logic or compromise (including, but not limited to: Anarchists, Communists, Capitalists, Christians, Atheists, etc.)
Epilogue: A sound off from simple people with simple theories.
Fucking up, but articulate, with a feeble grasp of arithmetic.
Fueled by false determination, and the final breath of a declining nation.
Where do you think that the remedy is? And why do you think it even exists?
This building is falling down.
Paradox: A nodding off from imploding circles with no direction.
Take a look in the fucking mirror, and ask yourself who the enemy is.
Last call at the gas pump. Last call at the water pump.
Who do you think are your fucking friends?
Who do you think are your fucking friends?
DIG TOO DEEP
The Icarus myth is commonly used to illustrate the danger of extremes. It's probably familiar to you, but basically, it's the story of Icarus and his father Daedalus, who are both exiled on the island of Crete. In order to escape, Icarus builds wings out of wax and feathers. His father warns him not to fly too close to the ocean, or too close to the sun, but sure enough, Icarus gets lost in thought and ends up too high, where the sun melts his wings and he splashes into a watery grave (yarrr!). In James Joyce's A Portrait of the Artist as a Young Man, the myth is alluded to regarding extremes in a potential genius. Here, it alludes to post-industrial society going too far.
Dig too deep, get hot, hot hell, get devils inside your body.
Climb too high, get wet, wet wings, get heaven inside your throat.
And when the city starts to shatter. When the military comes. When the soldiers from their bases do arrive: we're going to feel the earth shake.
Do you have any more money? Do you have any more food? Do you even have a roof over your head? Looks as though the end is coming soon.
NO LODGING FOR THE MAD
A country song for broke, crazy motherfuckers.
I have been making presentations for a final escalation, I have been praying to the god of giving up.
She says, "Lock the door behind you now, before the criminals/cops break in your house".
Oh, I have looked so hard for a place where I could die. But the winners up there of high-end living won't allow the broken insane to arise.
So fuck this city. Fuck this job. They break you down before you even reach the top.
In a god-fearing land, there ain't no lodging for the mad;
you can't get high enough to breathe before you drown.
I'm gonna go back to that factory, where they make moving parts
that will take you very far away.
In the flash of a pack of matches, I will be gone.
NEEDLE'S EYE
This started as a cover of an old British schoolyard song that I couldn't find the music to. Later, we decided we liked the music and ended up writing our own lyrics to it. The original was intended to be sung while skipping rope. I'm not sure which version is better.
I want your sincerity, you know. I want a song that will dig into my bones. I want a place to live where I can raise my kids, settle down with you and call it a home.
I want a town as big as New York, where the masses and the buildings are born. I want an anonymous place where nobody knows my name; if that were possible, I wouldn't need much anymore.
I want a bar where I can drink until my face turns numb. Gimme a bottle of wine so I can kill some time; I don't gotta prove anything to anyone.
When I get back to the house, a binding webbing forms.
Dream of hell-bound barking dogs, and then walk back out the door.
If I get this far when I grow old, I won't want for any fortune of gold.
I want the markings, instead, of a life well-lead, and the force of a body turning cold.
A lover's eye does define a life that is good and true.
Many a times I've been chilled to the spine because I wanted you.
MILITARISTIC KITCHEN
Positive involvement pushes things forward and makes ideas happen. This is dedicated to all the wonderful things people can do if they get disciplined, organized, and excited.
This is a militaristic kitchen, this is a pluralistic sideshow.
Get off the hesitation, get off the fucking sidewalk, I love you.
No borders, no boundaries, no authorities, no leaders, I love you.
This is a militaristic kitchen, this is a pluralistic sideshow.
This is a militaristic kitchen, this is a terrifying freakshow.
Get off the hesitation, get off the fucking sidewalk, I love you.
No preachers, no greed, no misconceptions, no losers, I love you.
This is a militaristic kitchen, this is the most compelling freakshow.
This is a militaristic kitchen, this is just the beginning now.
Get off the hesitation, get off the fucking sidewalk, I love you.
Watch your back! Watch history! Watch everything and act!
This is a militaristic kitchen, this is only the beginning.
CUYAHOGA CANAL
Construction for the Ohio Canal began in 1825, and once it became fully operational, the entire region enjoyed unprecedented prosperity. Less than 50 years later, major portions of the canal were abandoned and grew into disrepair due to competition from more effective means of transport.
The canal still saw some use, though. Bank robbers, slaves, criminals, and others seeking refuge in the north followed the abandoned waterways. Some found refuge, and others died along the way. According to one ghost story, a young girl from the south who had run away from an abusive family followed a system of locks northbound. She made it as far as Akron, where she drowned herself in the water out of of frustration. She supposedly still haunts the area, and can be heard sobbing outside the Civic Theater on some nights. Spoooky!
When you commit unforgivable crimes,
there is a house in which to hide.
At this house, there are guns inside.
If you begin to starve, I will feed you well.
If you cannot read, I will gladly help.
If you need some sleep, you can rest a spell.
But there's no swimming in the old canal, in those polluted waters where the best of men drown;
there's no swimming in the Cuyahoga Canal.
If you build a boat, you can sail up north.
You may find freedom past the Canadian border.
But your presence here is unwelcome, in the name of law and order.

STEALING APPLES FROM THE MAN
In 2007, we went on a tour through the state of Washington, and eventually ended up in Bellingham, where our friend Pi was working on an old farm. We were gonna play in their greenhouse later that night, but since we arrived hours early, we ended up hanging out with an older lady named Dianne who was the owner of the farm. She told us about how Aarco, the oil company, had just bought up an apple orchard nearby, and had polluted it and let the land go to waste. Dianne ushered us into her truck, and drove us over to the property, where we snuck off with bags upon bags of apples! Later, we made cider and booze for the show with 'em. Fuckin' punk, right? Up the farmers!
Setting: Bellingham.
Action: Stealing apples from the man.
Characters: Dianne and three young dudes in a travelin' band!
Went to their land; sabotage was the plan
for 30 proof hooch in Pi Pagoda's van!
Setting: City Hall.
Action: Getting handcuffed by the cops.
Plot Devices: Bike locks and tons of people tossing molotovs and rocks.
Went to their land; sabotage was the plan.
Financed by the state, laughing while running away.
BIKE COPS
You got caught up in U-locks, played chicken with bike cops,
danced badly with employees at hotel picket lines.
Stole copies from Kinko's, spray painted the windows,
and slept on the floor for a year.
Then they got you on charges of assaulting an officer, interfering with a "protector of the peace",
disorderly conduct, harassment, and trespassing;
we panicked, and now you're locked in a jail cell alone.
But don't ever get lonely. You've got friends in most places.
MONTANA
Does it even matter?
THERE IS TROUBLE
Where have you run? Are the walls still on your mind?
Where could you possibly go, expecting to find something?
Do you realize you are bound to hit the floor?
Do you realize that the walls you make and the places you stay
will get beaten by the wind and erode?
The ones in danger who are down on their luck
get picked up at the crossroads in a pickup truck.
The driver, concealed, speaks real slow,
He says, "There is trouble at the end of this road..."