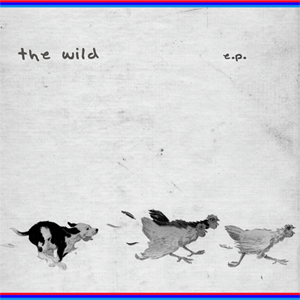 THE WILD
THE WILD

The Wild are a lot of things. They are a long sunny drive on an empty interstate. They're a hot summer night, drinking beers and barbecuing on your porch. With its jangly guitars and rolling narratives, The Wild's debut EP is perfect for those warmer months of the year. And not only is the music awesome, but The Wild also help run The Wonderroot, which is a community center in Atlanta that provides a low-cost/free recording studio, darkroom, computer lab, library, conference room for the local kids as well as an all-ages show space for tons of bands passing through, something Atlanta hasn't had in a while. Fucking inspiriing!
Click here to download the wlole album!
Click here to buy this album physically!
1. They Too Will Know
2. The City That Never Sleeps
3. We Will Drive These Warlords Out
4. We Shall Overcome
5. Oh, Alex
thank you for getting this record!! Thanks to jeff at quote unquote records and anthony and ardilla at sidejar records!
thanks to all of our friends and families and loved ones and fans who have been awesome and supportive! we've met so many amazing people and had so many amazing experiences as a result of playing in this band and are extremely grateful and honored that you guys come to shows and allow us to keep doing this! see you soon!
for tour schedules and all that visit us at myspace.com/thewildatl... you can contact us at thewild@wonderroot.org...please write and say hello. we'll definitely write you back! be sure to check out quoteunquoterecords.com and sidejarrecords.com to
find other great bands they release!
this record was engineered and produced by brandon Montgomery and the wild in atlanta, ga at the wonderroot community arts center!
the wild is: ben (bass), dianna (vocals and more), kylee (drums), genna (did vocals on tracks 1, 2, 3), witt (vocals, guitar)
make sure to donate and help keep this awesome label alive!!

This work is licensed under a Creative Commons Attribution-Noncommercial-Share Alike 3.0 United States License.
please note "The Wild" in the subject or body of your donation.
(SUGGESTED DONATION: $5)
LYRICS!!!
they too will know
do you recall a kid we knew when we were just fifteen?
He drank some beer cause he was full of fear and his head was full of dreams.
He'd sleep the days, at night would drift away from his own life,
Punk rock records, did some drugs, looked at his ceiling and he'd cry...
Something isn't right. I've gotta get away from this state of mind.
When the sad set in and his nose got red and his drinks became too big,
He set to change the course of a boat that sailed indifference winds,
Made changes to himself, met some friends with dreams as big.
They stared at the sky, counting stars, waiting for their ship to come in.
So we're gonna change the world, but tonight we'll just change our minds.
So we're gonna change the world, and it starts right here right now..you
and me tonight! Now we sit inside this satellite dish watching the skyline,
Trying to trade peace for war, wondering how so many people got so blind,
But when you feel like giving up you've got to change your mind,
Cause it's the way of the world... first things first, one person at a time.
And some people will say what is past is past just let it go,
But when they wake up from this nightmare they too will know,
That a dream isn't something that you can just ignore,
No a dream isn't something that you can just ignore.
the city that never sleeps
I left my girl in vacation land, Now virginia's barns burn
backroad memories red into my skin Like the southern sun. I left the trees for the
towers, The woods for the wealth,The streams for the streets, my friends for myself.
It was a bad idea. But we still sing... Ohh ohhh ohhh
I learned it, i lived it, and now I'm gonna leave, but I won't regret it, Its just that
new york city is not my friend. I just wanna go somewhere where I can rest my head
Where the streets are on fire, not just smoldering, somewhere like Atlanta.
Well the streets aren't on fire just yet, but were lighting a match. It wouldn't sink in,
And so I tried,But everything that was real Just squeezed out the side, When I
closed my eyes real tight. Im in the city that never sleeps ... And im fucking tired.
All of the colors that rained down from the sky might as well have been explosions
On the inside, that night before the fourth of july, By the naval yard on the
new hampshire side. Jason played in the park, while I fumbled on my acoustic guitar behind a red door. But we both sang ohh ohhhh ohhhh
we will drive these warlords out
Ohhh... we'll build the brightest cities
you can see from outer space, but we'll know there's nothing brighter
than a peaceful man's face. We'll know that everyone's related in some
kind of way, And like family we'll love without understanding or doubt.
We'll plant a seed and watch it sprout, And we'll drive these warlords
out. Well.. the answers still blowing in the wind despite all the efforts
of politicians. But no breeze will ever loosen our grip, we'll rise our fists
with a grin! Cause who wouldn't die for their best friend? We'll wipe
the sweat from our brow, And we'll drive these warlords out.
I am constantly trying not to disappear into the cracks in the sidewalks
Of the east village, And in holding my own it's become quite clear
That redemption is not in the atmosphere. It's in holding a hand and
screaming a cheer, At the top of our lungs so everyone can hear..
Even if we just ease one person's fear. We are not meant to be alone.
That's why you and me are here right now, And we'll drive these
warlords out. I am feeling blue like I often do, It's not like I wanna
be with just anyone right now, Cause I wanna be with you! So please
be the girl that I love tonight. We'll sing along to a thousand old
folk songs.. Yeah we'll sing along to our favorite pop-punk songs!
And we'll wipe the sweat from our brow,
And we'll drive these warlords out.
we shall overcome someday
last night i had a dream about a boy that i love. we ride
bikes by the sea ... we high-five in setting suns... woh oh oh. in this dream we have
a house, made of love and understanding. no girls to break our hearts, just friendship and compassion... woh oh oh... and we all sing a song of love, a song of freedome. we all sing a song of hope and it goes... we shall overcome. yesterday i saw this girl, just got back from overseas, well she believes in me.. shes been there since the beginning...woh oh oh. this girl she is my sister and i love her and i miss her. i can't wait till we're back together, when she gets home from school...woh oh oh.. and we all sing a song of love, a song of freedom. we all sing a song
of hope and it goes...we shall overcome... someday. well i've got this
friend in brooklyn...sings like he's got the spirit in him, oh i just like to listen...
feel i've got so much to learn...woh oh oh. and all my friends down in atlanta...
a couple hippies, the vampire, and the jacket. can't forget how good we have it,
and that's why i've gotta sing about it..woh oh oh...and we all sing a song of love,
a song of freedom. we all sing a song of hope and it goes we shall overcome....someday.
oh alex
woh oh oh… woh oh oh... well the last time that i saw you was in the summer of last year ... on a blanket, under blue skies, and the hot sun burned my skin. but it felt just right and so we jumped right in, to that clear lake ... the cold water felt good as we sank. now we all have these dreams ... the kind that just won't leave, of people we've yet to be, of places we've never seen. and as we grow up ... little by little, day by day. there's those that say 'give it up ... yeah give it away.' but when you held my hand and told me to stay... you said follow your heart, it's the only way, and i know you'll get sad with all this war and decay, but please for me, no don't be afraid. they'll say go have your fun... it's just a waste of time, but i feel so free ... like a child ... yeah so fucking wild!! woh oh oh. woh oh oh!