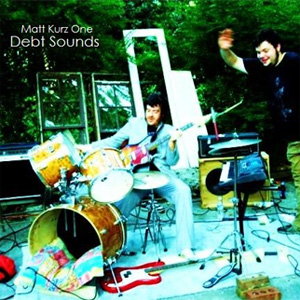 THE MATT KURZ ONE
DEBT SOUNDS

Click here to download the whole album!
1. Solid Gold Coffin
2. God Said
3. Hey Renee
4. She's a Shining Light
5. Two Thousand Mine
6. Give Me a Chance
7. Hunker Down/Did the Slid
8. I Don't Fucking Believe It!
9. Big Open
10. Right That Wrong
Thanks:Joel Hatstat,Jason Roach,Sarah Weir,Jeff Rosenstock,Quote Unquote Records family,Mat Lewis,Timmy Tumbles, Laura and Richard Kurz and the family, and Grit folk.

Debt Sounds by Matt Kurz One
All of these songs were recorded by Joel Hatstat at The Bakery in Athens, Ga
All instruments were recorded simoultaneously and live. Vocals were over dubbed.
All songs written by Matt Kurz

This work is licensed under a Creative Commons Attribution-Noncommercial-Share Alike 3.0 United States License.
please note "Matt Kurz" in the subject or body of your donation.
(SUGGESTED DONATION: $5)
NOTES!!!
Solid Gold Coffin
This song is for Georgia legend James Brown, who was presented in a solid gold coffin at his wake at the Apollo.Lyrics are quotes from an interview he conducted while under the influence of drugs, which Brown refrained from using until his late fifties.
God Said...
One night I had an especially vivid dream in which an amorphous cloud of unearthly geometric shapes and colors, claiming to be the almighty, made me promise I would pass on a message for It. While certain this was a dream, I figured I'd cover my bases and just write the song.
She's a Shining Light
Well,..she is. And if you don't treat her right, I'll take her from you.
Hey Renee
I was trying to write a love song and wound up writing an indifference song. The name was inspired by a co-worker at the Grit, who is far more interesting then the actual person who inspired the song.
Two Thousand Mine
This song was an ad libbed, impromptu jam that came out of a recording session with local all star Timmy Tumbles. It was later recreated with Joel Hatstat at the Bakery.
Give Me A Chance
I like to write really upbeat songs about things that are painful or embarrassing. That way when I think of the thing, I think of the song, and then I don't feel as bad.
Hunker Down/Did the Slid
One night my neighbor was giving me unprovoked life advice that I couldn't understand through his thick Alabaman accent and even thicker Vodka accent, except that he kept saying," You gotta...hunker down". My other neighbor's 6 year old son Tyree, exclaimed,"I did the slid!" after successfully skidding out the back tire on his bicycle. I thought both of these would be funky things to yell.
I Don't Believe It!
I don't.
Big Open
Accidentally written while trying to cover a Cinemechanica song. Pretty easy to tell, right?
Right that Wrong
A meditation on modern surveillance.