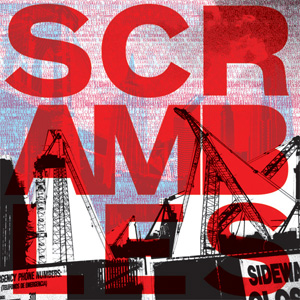 BOMB THE MUSIC INDUSTRY!
SCRAMBLES


Click here to download the whole album!
Click here to buy the CD/LP, both featuring a 32-page fanzine

The long awaited (a year and a half!!!) return of Bomb the Music Industry! A full band of a dozen or so friends pick up their guitars, trombones, drum machines, fuzz pedals, gameboys and both decent and shitty home recording apparatuses to create an enormous fucking racket. Recommended if you like eating, sitting on the beach when it's warm/sitting on trains when it's cold, trying to lift cars when you have had a few too many beers and speaking in run-on sentences.

1. Cold Chillin' Cold Chillin'
2. Stuff That I Like
3. It Shits!!!
4. Fresh Attitude, Young Body
5. Wednesday Night Drinkball
6. 25!!!
7. $2,400,000
8. Gang of Four Meets the Stooges (but Boring)
9. 9/11 Fever!!!
10. (Shut) Up the Punx!!!
11. Can I Pay My Rent in Fun?
12. Saddr Weirdr
13. Sort of Like Being Pumped

Artwork by Twin Cuts

Drums recorded at Turnpike Sounds in Huntington, NY by Tom Malinowski with the help of Brad Cordaro. Bass recorded in John DeDomenici's mother's basement by Tom and Jeff. Most other instruments recorded at Get Bent's practice space (Ridgewood, NY), Quote Unquote Records (Brooklyn, NY) and various friends apartments in Brooklyn by Jeff Rosenstock. Additional keys recorded at the Bakery in Athens, GA by Jeff and Joel Hatstat. Sean Bonnette's vocals were recorded at audioconfusion (Phoenix, AZ) by jalipaz and Chris Candy recorded his own trumpet part at his house in Santa Monica, CA.

Additional gang vocals: Chris Baltrus, Colleen Cleary, Katie Cleary, Danny DeFalco, Dave Garwacke, Nathan Hobelman and Craig Howe.

Dominated by Lazer Dollars

Since our last record came out, we have been fortunate enough to meet even more amazing people. We had ridiculous fun meeting the Slackers, Lemuria, Andrew Jackson Jihad, Kepi, Dino and friends, Less Than Jake, The Queers, Sonic Boom Six, Shinobu and Pteradon and spending time with them on the road. That tour with Chotto Ghetto however, was definitely the best tour anyone's ever been on. It was also really nice to have new local buddies in Cheeky, Barnaby Jones, Let Me Crazy, The Ergs! and Bridge and Tunnel to play with as well as reacquainting ourselves with our old buds Mustard Plug and Big D. Oh yeah, if it wasn't for Dave Covert, John Pantle and Mike Park a lot of that touring wouldn't be possible. Speaking of Mike Park and also Skylar now, Asian Man Records still rules for putting out our records, especially with this huge 'zine. Tony and Cam rule for doing the Fest. Flood and Virgil still think vinyl rules and that rules. I Heart U Productions rules for printing shit like this and Dave Garwacke rules for filming it. Andy Baker and Joel Hatstat rule for all the advice on mixing this record, and I guess the whole town of Athens, Georgia rules for feeling like home even when I'm only there like three times a year. Tape-op and Cometbus rule for all the inspiration. Everyone we thanked on the last record still rules. Everyone who wrote something for this 'zine is amazing, every house we've ever played at or stayed at and everyone who has been a part of Bomb the Music Industry! in the last four years is also amazing so don't even front. I probably forgot people, but that happens. We don't have management to look over shit like this. In fact, this really did start out as a bedroom recording project and now we get to play with amazing bands, have records with 'zines and talk to South African magazines about our music. Goddamn. If that ain't proof that anyone can accomplish anything, I don't know what is. And accomplishing shit is fun. SO LET'S ALL GO ACCOMPLISH SOME SHIT!!!!!!

COLD CHILLIN' COLD CHILLIN':
Mike Campbell - Omnichord
Joel Hatstat - Sleigh Bells
Matt Keegan - Trombone
Sean McCabe - Trombone
Christine Mackie - Bells
Jeff Rosenstock - Guitar, Voice, Piano, Saxophone, Loops

STUFF THAT I LIKE:
Mike Costa - Drums
John DeDomenici - Bass
Jeff Rosenstock - Baritone & Standard Guitar, Voice

IT SHITS!!!
Mike Costa - Drums
John DeDomenici - Bass
Dino - Voice
Kepi Ghoulie - Voice
Jeff Roesnstock - Baritone & Standard Guitar, Keyboards, Voice, Programming

FRESH ATTITUDE, YOUNG BODY:
Mike Costa - Drums
John DeDomenici - Bass
Christine Mackie - Claps
Tom Malinowski - Guitar
Jeff Rosenstock - Baritone & Standard Guitar, Piano, Wurlitzer, Synthesizers, Claps, Voice

WEDNESDAY NIGHT DRINKBALL:
Sean Bonnette - Vocals
Mike Costa - Drums
John DeDomenici - Bass
Jeff Rosenstock - Acoustic, Baritone & Standard Guitar, Piano, Wurlitzer, Mellotron, Voice

25!!!:
Mike Costa - Drums
Tom Malinowski - Guitar
Jeff Rosenstock - Guitar, Key Bass, Piano, Programming, Synthesizer, Voice

$2,400,000:
Mike Costa - Drums
Rick Johnson - Theremin
Jeff Rosenstock - Acoustic, Baritone & Standard Guitar, Fuzz Bass, Stylophone, Wurlitzer, Programming, Synthesizer, Voice

GANG OF FOUR MEETS THE STOOGES (BUT BORING):
Mike Costa - Drums
John DeDomenici - Bass
Tom Malinowski - Standard Guitar
Jeff Rosenstock - Baritone Guitar, Drum Machine, Voice

9/11 FEVER!!!:
Mike Costa - Drums
John DeDomenici - Bass
Jeff Rosenstock - Standard & Baritone Guitar, Voice, Claps

(SHUT) UP THE PUNX:
Chris Candy - Trumpet
Mike Costa - Drums
Rick Johnson - Bass
Matt Keegan - Trombone
Sean McCabe - Trombone
Jeff Rosenstock - Baritone & Standard Guitar, Tenor Saxophone, Keyboards, Programming, Voice

CAN I PAY MY RENT IN FUN?
Mike Costa - Drums
John DeDomenici - Bass
Jeff Rosenstock - Acoustic & Electric Guitar, Keyboards, Programming, Voice

SADDR WEIRDR
Mike Costa - Drums
John DeDomenici - Bass
Tom Malinowski - Electric Guitar
Jeff Rosenstock - Acoustic & Electric Guitar, Bells, Keyboards, Programming, Voice

SORT OF LIKE BEING PUMPED:
Neil Callaghan - Melodica
Mike Costa - Drums
John DeDomenici - Bass
Matt Keegan - Trombone
Christine Mackie - Bells
Sean McCabe - Trombone
Jeff Rosenstock - Acoustic & Electric Guitar, Key Bass, Tenor Saxophone, Synthesizer, Programming, Voice
Laura Stevenson - Banjo, Voice


This work is licensed under a Creative Commons Attribution-Noncommercial-Share Alike 3.0 United States License.
please note "Bomb the Music Industry" in the subject or body of your donation.
LYRICS AND EXPLANATIONS!!!
Fall 2008: I wanted to record an album that cost $50. Truthfully, we never spent that much money on a record before, but that's just because Joel recorded us pretty cheap on the last one. This time, I wanted to go at it without any help. I horned in on Halo Fauna/Get Bent/Red and Blue's practice space in Ridgewood, Queens, and prepared to record every day until the record sounded very very big. There were some problems however. Like the fact that the gate to the practice space would often roll back over the door so the alarm would go off and the door wouldn't open so you couldn't stop it. Or like the fact that someone in the space has been practicing to the same Marnie Stern song every Friday at 2 PM for the past three months. Or of course, what anyone who has ever recorded in a practice space knows, bad metal bands.
So the recording process went like this: Tom set up some mic's at Turnpike Sounds, a nice little studio that Brad Cordaro runs out of a basement in Huntington, Long Island. He recorded Mike's drums with a little bit of help from Brad and a littler bit of help from me. Shortly after that we set some stuff up in John's mom's basement and recorded bass guitars. From there on out it was a lot of days spent in a tiny, sweaty practice space with microphones sticking out of toilet paper rolls, laying down a bunch of stuff, occasionally recording some stuff at my apartment too. Tom recorded his guitar parts himself in his basement in Seaford. We were supposed to have our record finished before our fall tour, but since we didn't that allowed us some time to record a beautiful grand piano and a kinda beautiful wurlitzer at the Bakery (which happened to be where we were staying) in Georgia. I eventually went back to record a Pegasuses record and threw some analog synth on there. Shit, Joel Hatstat even played some sleigh bells. To top all that off, Rick and Chris recorded some parts in their respective states and Sean Bonnette recorded some sweet vocals with jalipaz at audioconfusion in Phoenix. And the icing on the cake! Kepi Ghoulie and Dino happened to be in town towards the end of the recording and got a chance to stop by the apartment and since into panty house draped around a wire hanger.
Once most of this stuff was down, Tom made a rough mix of one of the jams, feeling out some sweet EQ and compression settings. I sent a copy to Rick Johnson and he brought some reverb into it, which is something I've never put on Bomb recordings. Weird! After that I sat in my apartment for about three weeks straight, tweaking it and sending it over to Joel who would eventually master it. Finally when the record was almost done, we got some friends over my apartment in Brooklyn and John's mom's house in Baldwin to sing some gang vocals. We ate a lot of pizza in Brooklyn.
The point being that this record could not have been made as cheap without such good friends giving such good advice and sharing their such good time. It is possible to make a sweet record that you love for almost no money, but it's a lot more possible with pals. Over the past few years I've learned a lot from the buddies that we've spent time with, whether on tour or otherwise, and I asked some of them to share some things they may have learned from their experiences. Their responses are listed in the 'zine that comes with this record. Remember, doing things yourself is fun and usually cheaper! Cooking beats McDonalds! Fixing shit beats paying some asshole to fix it! Recording yourself gives you more time to explore! So quit scramblin' to fit into a failing system, GO OWN YOUR LIFE!!!!
Cold Chillin' Cold Chillin'

This song was written in the kitchen of a house in Shreveport, Louisiana while on tour with Pegasuses-XL. There was a good chance it was going to end up being a longer song with more verses and a vibraphone solo, but I figured it would be more fun to try and build the song up instead of out. And that's the way I justify recording a subway tunnel on my blackberry and reversing prepared piano. I also realize now that if I thought transit delays and fare hikes were annoying before the big economy crash of 2008, the future is potentially gonna bum me out. Oh well, fuck it. I'm sure hipster-hating hipsters will always be equally as annoying.
Cold face, cold legs. Walk three blocks and pay two bucks. One bold sign: Interference on the line, waiting twenty minutes time every time.
Transfer at Bedford, twenty more Manhattan bound, ten billion kids. I am happy with my flaws. I am happier when no one is around.
And everybody looks around to blame our Brooklyn burning down on white kids, hipsters, students but we act like we're not one of them. It's easy. Just use your eyes to judge and go back to your powder drugs.
But I'm no better. Smile while pushing through the crowd, "A round for friends." Find a corner at the bar. Aberrations in a real confusing town.
Stuff That I Like
Shredding! I (now not so) secretly really wanted this song to be in Rock Band or Guitar Hero after I wrote it. I even emailed Asian Man Records about it! I think it probably is gonna be harder due to the use of the phrase "fucking cocaine party fucking" and also the Scott Weiland dissing. That's like a double whammy in rock and roll world. Anyway, you ever have cool friends bring you out to a bar that ends up being a dance club? Come on, buddies! Also, it's important that you know Matt Kurz came up with the genius idea to ask "do you mind if I take a shit in the cocaine room?" at a shady dive bar around the block from the houses where we both grew up so I stole that from him.
The city subway stations never glisten. The gates rise up like they belong in prison. And my balance is low. I better pick a good place, I got one ride to go. Your fucking cocaine party fucking freaks me out. When did Scott Weiland show up? How long's he stickin' around? I guess this new fare hike means that I'll ride my bike, play video games and do other stuff that I like.
And in the morning cleaning up, we found these plastic bags with a little bit of party left and started to laugh, "Man, I'm glad I passed out from the booze and the weed 'cause the house stayed up 'til 6 AM doing speed." But now it's 1 AM and I'm quite a few in and I can barely make out where the bathroom line begins and it's been moving five inches every fucking five minutes.
I wanna ask the over privileged kids if they would fucking mind? I gotta take a piss in the cocaine room. What is this? The line for lines? It's a long line for lines. I'm getting claustrophobia from the twenty-something set with bleary eyes. I don't wanna be part of this Friday night or Saturday night. I don't wanna be part of this line for lines, long line for lines. I don't wanna be part of this night.
When I'm out these days I do is complain about the booming bass and the shitty DJ because if I wanted to go to a dance club, I'd own a bottle of Brut, a closet full of Christian Dior, and I'd be in a different room. 'Cause we can dance to Otis Redding, P.O.S, and M.I.A and if you're on Serato Scratch don't call yourself a DJ. Beat detecting's got no attitude, your tempo maps can't feel and room, but lemmings all have dancing shoes and I'm just freaking out.
You're assaulting me with thrusts like I'm an asshole. You're sweating to the sounds of Billboard's Hot 100 like a total yeah bro dick. Man, I thought that we all lived here 'cause we're different I guess I was wrong this time, and time after time I don't wanna be part of this Friday night or Saturday night. I don't wanna be part of these cokey times and eight dollar wines. I don't wanna be part of this night.
The city subway station never glistens. The gates rise up like "What's up? You're in prison, confined by alcoholism and lack of better decisions for having fun on the weekends." But this shitty atmosphere keeps bumming me out. Don't want my Club MTV. I hate Downtown Julie Brown. I guess these new prices hikes will make me grab my light and climb the fire escape to the roof for a book that I like.
It Shits!
Somewhere in the last two years, Sean McCabe has introduced the word "shits" in our vocabulary, its use being to replace the word "sucks." In the context of this song, having only ten hours a day to yourself because of work shits. Being too exhausted to do anything you enjoy shits. The strain that an annoying long work week puts on your relationships with yourself and others can be enormous and totally shits. Kepi Ghoulie certainly doesn't shit.
Tuck the phone in the crack of my sheets, 'cause I'm not getting up today. Television down, turn the clock around 'cause you're not getting up today. We're gonna sleep late and get breakfast. We're gonna tell our bosses we're sick.
It really shits that I only get to see ya for an hour and a half everyday. It really really shits that that hour and a half isn't really very good anyway. Because I'm burnt, because you're angry we watch three-quarters of a movie and pass out on opposite halves of a really long couch.
I wanna live on a float in the middle of a swimming pool. I'm sorry, all my friends, but I'd trade anything for this.
I've always got a good book and it's always the summer and I'm not hiding in the bathroom just to catch up on sleep like a creep. It shits, okay? When you wake up every train stop and when you sleep through just your train stop.
You gotta push yourself so hard that you're gonna burn out until you feel so fucking burnt that you just sit around. Evenings weekends, i just wanna sit here, Please send me more sick days sick days. I wanna live on a float in the middle of a swimming pool. I'm sorry, all my friends, but I'd trade anything for this. Eating fries, drinking beers in the summer in a swimming pool. I'm sorry, all my friends. I'm burnt, I'm gone, I don't know what I'm on. It shits. it shits. Okay?
Fresh Attitude, Young Body

I lived in my parents' house after I moved from Athens, Georgia to New York and as a twenty-five year old, the only positive thing about the experience was that I got to play a piano every day. I thought this one might be a bit too triumphant, but since when can anything be too triumphant, right? So I guess it isn't. The older I get the more questionable decisions I see my friends and myself making in order to fit into the great societal plan of get a job, make some babies, die happy. Although I know there is more to life than that, I constantly fear that I'm racing around to figure out what it is and if I don't I'm just gonna be a lonely poor corpse.
Apartment at dusk: a grey Brooklyn sky, a train that I'm missing. A cheap travel mug that leaks from the side, damp coat and mittens.
If you don't find a steady job now, if you don't find a steady job now. Oh no. If you don't find someone to love now, if you don't find someone to love now. Oh no. You will die freezing cold and alone.
They've got full blown homes. They're married with kids (and appliances.) I'm doing dishes. It's cold in your carthe heat doesn't work. Baby, we're scramblin'.
If you don't find a steady job now, if you don't find a steady job now. Oh no. If you don't find someone to love now, if you don't find someone to love now. Oh no.
You're alone and you're wet in a hospital bed and your family and friends will inherit your debt as you breathe from machines. Yeah, I know it sounds mean but you're probably gonna die alone.
If you don't find a clock to punch now or find yourself a steady fuck now. Oh no. Your family and friends will inherit your debt and you're probably gonna die alone. Yeah, your family and friends will inherit your debt and you're probably gonna die alone.
Wednesday Night Drinkball

When you're unemployed, it's tough to convince your pals to drink beers with you on a Wednesday night and it's also tough to hang out at a reasonable time when you're depending on the G train. Sean Bonnette from Andrew Jackson Jihad really delivered the goods on these vocals and e-mailed them over as if we were recording Get Warmer or something.
There's nothing less cool than feeling exhausted from hours of not doing a damn thing at all. Not thrilling to chill, steal bandwidth and cable, give shouts to employers and wait for the call. There's a light shining out from the windowsill not content to project all day long. Maybe I could walk a little to the library. Closed. Maybe I could do this right for once.
Get my ducks in a row and just stop talking trash or whatever they say. Make the bed, sweep the floor, shake the carpet and spray. Put my shit in a pile, on the top slap a post-it, "Don't worry, someday your skill set will be wanted." But today everybody is a little tired, it's Wednesday. So at 10:00 I'm walking down a chilly Boerum to Broadway.
And it's you and me and a tallboy of Colt 45 or Bud Light. What's the cheapest one? Get through one more night. I drink fast, I don't savor. Each way takes an hour and at twelve, I'll be gone.
25!

25 is a really tough birthday, I think. It's pretty much the year when you should be an adult and have your shit together, you're not a teenager or a college-age kid anymore even though days and minutes before you turn 25 dumb mistakes feel more excusable. I guess when you're twenty-five years old, you live with your parents, your mother pays for doctors visits and you make your money by walking dogs and pushing soda carts, it's hard to feel very good as a bona fide adult.
I walked two miles in the rain in a suit, my feet torn up by my father's shoes. Receipts and cards tumble out of my pocket to the floor of the station. I still don't have a wallet. Up a flight of stairs to Herald Square. The umbrellas of New York take up too much air. So we just walk real slow at double-arms length in unison.
My mom dragged me to the doctor today, I had a cough for a month and it won't go away 'cause I've been sleeping on floors for three hours a day and I have no insurance, so she has to pay. I can't talk to my friends because I'm embarrassed that I keep sliding back down. I keep getting depressed.
- We got our ideals but no way to achieve them.
- We got our degree but got no means to use it.
- We're swimming in debt with no way to surmount it.
- We got thirty bucks and we spend it on whiskey.
- We got credit cards, so we got a new TV.
- We got mobile phones but no minutes so text me.
Get out of my way because I'm 25 and I still act like I'm ten! I'm 25! I don't learn from my mistakes I make them again and again and again and again and again...
- We swallow our pride over piles of problems.
- We whine and complain but we don't try to solve 'em.
- We're reaching for answers like nobody's got 'em.
Get out of my way because I'm 25 and I still act like I'm ten goddamn years old!
$2,400,000

I wrote a lot of this song, and recorded the demo when we were at the Monster House in Columbus, Ohio and the kids there were pretty nice about me going down into the basement and jammin' for a few hours before the show. I thought I was probably freaking out Lemuria too, 'cause we had just met a few days earlier. All weirdo-ness aside, I like this jam a bit. I also think it's fair to get bummed when stuff that you believe in gets co-opted in weird ways. I literally got an e-mail once that said "google my name, I have credentials." Sure you do.
I know what it looks like, but the ship's not capsizing. The driver's just drunk or asleep at the wheel. The map is illegible, we spilled beers all over it. We're all piss poor heroes, we're aching to drown in a sea of bad metaphors: trite, overused. Well, I'm sorry I guess talking just makes me confused. Dang dang.
And as a result, conversations don't start, they sputter and stammer. They spiral like shit trying to go down the drain but keeps spinning 'cause forces are making it stay and I don't wanna talk 'cause you don't understand. This wasn't for anyone, I just wanted something that wasn't prepackaged, that wasn't preplanned and now my only plan that is damn sure to happen Is slowly decaying on a shelf filled with millionaires saving the future in a sweet fucking press release, gloating on pedestals. You can't make a change unless you're there bragging, unless you're a dick about something that's pure to you. Something that's pure to you always gets fucked.
"Google my name, 'cause kid, I've got credentials. My pop's a big shit and I can get you free long distance. My co-op is awesome, my fixed gear's ridiculous. Stop smiling, stop frowning, I always thought you'd be different."
And there's been talk of leaving for good, but how and to where and what happens when they show up there with friends? Can you afford to leave again?

Gang of Four Meets the Stooges (but Boring)

Simply put, this song is about a band that got paid all the door money at a show in Montana ($300) and refused to give us even $20 for gas after we drove something like twelve hours that day. They eventually threw a quarter at us and drove away. They also screwed over buddies of mine who have put on house shows in other places. Get me drunk, I'll tell ya all about it.

There's nothing new about the old sound regardless of what you say. The world is looking on like "Really? Again? Okay, okay." We jumped on late, we both live far away. Okay, but it's 700 vs. 2K and when there's a lot of money you can split things two ways. When you put us on last and late, assholes, we're getting paid.
We didn't bring the shitty attitude but our kids still came and yo, I heard that friends and bands and human beings are supposed to help each other out, okay?
Even twenty bucks could have fixed this up. A gesture. SOMETHING. We'll feel super posi when there's sugar in your gas tank, stink bombs at your CMJ convention. No one bought your record. Oh no! No one wants to buy pretention.
We're eating pizza in New York. We're drinking beers with our best friends. We're not looking over shoulders. Karma is the shit.

9/11 Fever!!!
This song is about the five-year anniversary of September 11th. As someone who saw the towers crumble to the ground and all the panicked people in the streets, it really offended me to see it all sensationalized with celebrity movies, news specials and the like which all leads to more war and more pointless campaign arguments. Come to think of it, that shit should offend just about anybody.
We can't forget 3,000 lives. We got the flag to prove it. We got the sticker and the bracelet. We got a list of specials and we set the DVR so we won't miss it. We waste no time. I got the fever for a feature, a new target for a campaign speech and a couple cents off at the pump tonight.
You want the action hit of the summer where Nick Cage really learns something or the made-for-TV suspense-thriller where the pimp from Taxi Driver is attacking Clinton's credibility? Or how about some amateur footage of southern Virginians crying to the camera and shopping at Rite-Aid buying flags to translate what they gotta prove on this year's anniversary. We're mourning the loss, oh what can ya do but make the evening news logo red white and blue! Boo hoo!
I got the fever for a feature, a new target for a campaign speech and another moot point on the floor tonight. I got the fever for a feature, a holiday for a high school teacher and a couple cents off at the pump tonight.

(Shut) Up the Punx!!!
I guess this song is pretty self-explanatory, but I should mention that it's about a very small portion of the people that we've come into contact with. We've been treated so well by so many punk rock friends is truly inspiring when we see how people operate outside of the system all over the world. It's disheartening however when the small few seem to think acting high and mighty about their politics (or worse, doing so in an effort to eventually cash in) is going to help anyone or change anything. But fuck that. This is a love letter to the active people in the punk rock community who make the world a better place for all us outcasts.
I know it's hypocritical to point fingers at the people who point fingers. But when we all march to the beat of the same different drummer, the steps start to come off like clockwork. I guess I'm saying we could stand to be nicer because when you're in a basement talking shit and interspersing it with speaking in namedrops and units, I must admit I'm not the best when on the defensive. I'd rather steal your whiskey than your heart in conversation. I'd rather break three strings a song then stick to a routine like I'm ripe for the picking after growing on a tree and then talk about the industry, cross-market positivity with vinyl nerds and brightly colored, quirky messy record sleeves. I'd rather be vomiting and I despise vomiting. Blugh.
But thanks for the beer. I appreciate your time but can we talk about something else? If you really think that you and I are on the same page you can go ahead and fuck yourself. Because you've got coke and good looks, I've got overdue library books so let's be friends and change the subject now.
'Cause the last thing I wanna be is another negative asshole. Like God speaks through my acoustic guitar and I've got the perfect set of morals on a dry erase board at the front of the house.
FOLLOW THESE CONDITIONS OR WE'LL KICK YOUR ASS OUT:
Vegans only: NO MEAT ALLOWED!
Straight edge only: NO DRINKING ALLOWED!
Fixed gears only: NO THREE-SPEEDS ALLOWED!
Me me me!!!: I'M SMART! I'M RIGHT! I'M SMART!
I think it's dumb when you take the inherently fun like riding bikes and singing songs and say they're not for everyone as if for your whole life you were cool as shit.
"Punk tourist!"

'Cause you still beg for cash cause you spent your parents' last on a Greyhound to the Fest and your jacket says Crass but I don't give an ass I'm not giving you fifty cents so that you can buy a forty and destroy a hotel party as the man who shrugs your mess up shrugs and says, "This non-conformity looks like conformity, like boring nice people pose threats to your authority. This positivity is negativity and you boys sure left me with a mess to clean."
Smile big, hug bigger. Talk big, act bigger. Stop judging do something, shut the fuck up do something. Instead of sneering at my friends and me 'cause we're not stealing buy a troubled friend a drink at the bar and tip well. Don't spend your time scoffing when do that you're just scoffing like the people who scoff at us while defending our community. You're a teacher, you're a parent, you're the head of a dictatorship. When the ground is covered up in rules you're guaranteed to power trip.
This non-conformity looks like conformity. Why should anyone believe in our community? This organization doesn't feel like anarchy 'cause we're suiting up to have the same identity and the boring nice people say, "Shut up the punx!" All the people who have barbecues to feed their friends and family, "Shut up the punx!" All the people writing zines with information, not just blaming things, "Shut up the punx!" All the boys and girls are fed up with just saying that we're punk, we say, "Shut up the punx!"
Can I Pay My Rent in Fun?
When you go on tour long enough, a lot of things in your home life suffer. Everyone in a band has probably lost a job (or will lose one) from focusing too much on what they love. I thought that getting a letter from human resources in the mail on the last day of tour was a particularly cold way to be discharged from a job that I had for years, but maybe it was just an indicator that it was time to move on in my life.
You took a little every day until I didn't have shit.Two years off and on and not even the chance to quit, just a letter on a fridge that I got from human resources. I know that six weeks was kind of a bit much and that nothing is forever, and that nothing should be. Someday it all stops and I can't sleep now because I'm not a real fucking adult but I guess now I'll have my life from 7 to 6:45. Marie! Marie! Marie! I'm sorry I've been too busy for the promise of an unfulfilling life.
The risks I took were mine to take. We couldn't communicate in anything but rote responses and shit eating grins. Everything starts dwindling when it's all built on power trips and pandering. The letter arrived yesterday. I didn't have a drop to drink. I had to play and drive four hours to Brooklyn to my apartment of dirty shit and 1,000 lonely days ahead.
But I guess now I'll have my life with red and black out of my eyes. Marie! Marie! Marie! I'm really stoked you set me free from the promise of an unfulfilling life where I can pay my bills and pass out at eleven and not wake up in the morning and start feeling bad. Worst case of the mondays that I've ever had though I treat every weekday like a Saturday night except for drinks I can't afford. A can of Shmidty's, nothing more. I/you/we all need some more security than that provided by choosing between a job you hate, a job you hate and a job that doesn't pay. I got too caught up with me to behave responsibly. Michael, Nathan and Christine, I've got no rent, Marie! Marie!
I was arguing with cops while I had a fake moustache on, poorly handling emotions, swimming naked in the ocean,breaking bottles all over your floor and leaving without our passports, drinking gin and Zicam until 2 AM while playing rock band, inviting myself into homes of strangers to drink all alone, leaving sweat-soaked boxers on a bar 'cause they said "put a t-shirt on," acting irresponsibly and trying to make a choice between a job you hate and a job that doesn't pay.

Saddr Weirdr
This song was written a few days before I left Athens as I was packing up my shit and throwing out stuff like birthday cards and little gifts people picked out for me. Moving is a weird feeling when you feel like there are some acquaintances or friends of friends who you might never see again, especially when you have no specific plans and then everyone getting drunk together on the last night in town to make even more fuzzy memories. Leaving friends for a storage space and a van is depressing, but thankfully there will always be friends to make you feel less depressed in weird situations. This song is for James Brown, Amy Glickman and Craig Howe for all their help in my weird situation.
I put all my books in a box to put them in a concrete cube and underneath more boxes hidden behind boxes I'll get in one too. I just threw out another gift. I know it had a bit of thought but Mary we won't talk soon, I have no use for Crocs now and I have no use for gifts. They're gonna be piles. I'm gonna be a packrat. That's gonna shit.
It's hard to empty out my drawers. It's hard to empty out my home. Now I'm a vacant home for the last spark of a soul. Gonna get drunk one last time.
It's gonna get sadder, it's gonna get weirder until I'm gone. It's gonna get sadder. It's gonna get weirder until I'm gone, now it's kind of what I want but regardless thanks a lot for letting me stay on your futon. I don't know what I want, but regardless, thanks a lot.
Sort of Like Being Pumped
This was the first time in my life I ever picked up a guitar, wanted to write a song that sounded like something and actually wrote that song. After a particularly cold and depressing week, I took a ride home on the front of the J train and I guess the timing was just right that the sun was setting at that time that week and it was cool to feel nice about something finally, even if it was so simple. I demoed this one in Attractive and Popular's house in Arkansas, but I may have pissed them off because before I did that I drank a bottle of whiskey, snubbed the singer of the Blue Meanies, maybe started crying and made everyone turn off Last Action Hero. Then again, the next morning I felt okay, they took us to an amazing breakfast and the hot springs where we grabbed pennies out of the bottom of the boiling water. Once again, it was pretty cool to feel nice.
I saw the sunset from the front of the J train tonight. The subway stopped and stammered and I couldn't get my footing right. I tied my scarf for the walk home the sun went down by 5:45. But I saw the sunset tonight.
I saw the sunset from the front of the J train tonight. I saw an Asian boy staring out the window at the light. We didn't see a single sunrise at 6:30 AM. It's been a cloudy week and cold as ice. But I saw the sun set over the tracks tonight.
I saw the sunset from the front of the J train tonight. I took a couple pictures and the workers thought that I wa sn't quite right. I see them every day,we all battle for a seat, it's been a long damn week, we gotta rest our tired feet.
But I saw messages that say that life's better than this. I followed it down to the ground and took a seat with the other stiffs I faced my weekend fright, looked forward to my Friday night. I let my worries burn like files inside the fire and lights when I saw the sunset.