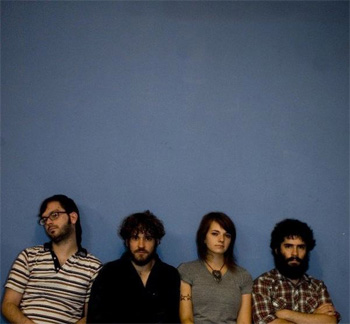 Luke Fields - Guitar, Vocals
Samantha Paulsen - Guitar, Vocals
Scott Smith - Drums
Jeff Tobias - Bass, Vocals

We Versus the Shark is the best band to come out of Athens, GA since Neutral Milk Hotel. Hands down. For the past four years, they have been evolving from the mathy dance rock of their early releases to mixing gnarly riffs, tones and noise with carefully crafted pop songs. We Versus the Shark is always going full force and they rule shit. Also, they're the only band to ever be associated with Quote Unquote to receive reviews from Pitchfork Media. You love We Versus the Shark.
ALBUMS:
Split EP (2004 - Hello Sir Records)
Ruin Everything! (2005 - Hello Sir Records)
EP of Bees EP (2007 - Hello Sir Records)
Murmurmur (2008 - Quote Unquote)
SHOWS: