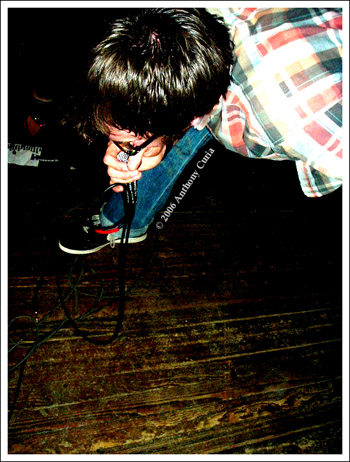 Holed up inside of his Muskegon, Mich. bedroom, Rick Johnson has an idea or two. Connecting various drum machines, synthesizers and 1980s era electronic toys, he begins layering sounds upon his electric bass foundation. The goal, he says, is to "create an overflow of stimuli." Mission accomplished. Rick Johnson began exploring the realms of electronic music in the late 1990s, as a change of pace from his day-to-day activities with his rock bands, Wack Trucks and now Mustard Plug. In 2002, Johnson decided to transform his tinkering into an all out "project," dubbing the product of his endeavors The Rick Johnson Rock and Roll Machine. Musically, The Rick Johnson Rock and Roll Machine sounds a bit like what would transpire if Devo wrote a score for a video game. (OK, so they did.) The topics of Johnson's compositions include his love/hate relationship with genetically altered meat, his dislike of supermarkets conversations, and the perils of part-time jobs. "It's all autobiographical to an extent," says Johnson. Donít confuse the electronic ramblings of the Rick Johnson Rock and Roll Machine with electronica or dance music. While itís mostly electronic, and most certainly danceable, the ìRock and Rollî moniker is no mockery of the genre, but rather an homage, as well as a reflection. Johnson claims, "I am not some techno dude. I'm just a dude that doesn't want to deal with real people - computers are sexier."
Click here for a hi-resolution press photo.
Click here for a hi-resolution logo.
RICK JOHNSON ROCK AND ROLL MACHINE

ALBUMS:
Singles Going Unsteady (2006)

SHOWS:


Warning: include(/hsphere/local/home/asobrock/quoteunquoterecords.com/php/show_news.php): failed to open stream: No such file or directory in /home4/asobrock/public_html/rick.php on line 111

Warning: include(): Failed opening '/hsphere/local/home/asobrock/quoteunquoterecords.com/php/show_news.php' for inclusion (include_path='.:/opt/php56/lib/php') in /home4/asobrock/public_html/rick.php on line 111