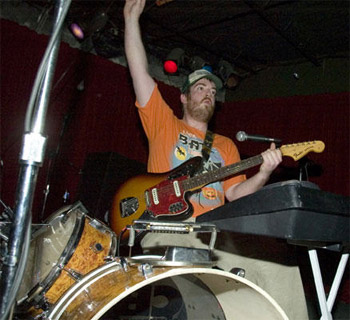 Matt Kurz was born on Long Island, New York on September 19th,1980. Throughout his teen years he was in various local bands playing various different instruments. After being in a series of bands that instantly imploded, he decided to give up on music. This did not last very long. After having recurring dreams of an old bluesman who played a snaredrum with his left foot and a bass drum with his right while playing guitar, he decided this was a sign and should try it himself.
He gigged around NYC under the name "The Teo Kurz Robotic Army", playing an admittedly bland Sonic Youth inspired indie-rock. It was then that a traveling friend tipped Kurz off about a man in San Francisco who was a carbon copy of the bluesman in his dreams.Taking this as a sign, he immediatly went out to San Fransisco to find him, and did. The old man turned out be Bruce "The Judge" Brooks, half of the street blues duo "Chicago Brother and Sister Blues Band", with Juliette Valentine.
On the corner of 4th and Market, Brooks taught Kurz the art of the blues, as well as one man band tricks. Valentine taught him how to sing, how to really belt them out.
Upon return to New York, Kurz dropped the "Robotic Army" schtick, and began performing under his real name, playing slide guitar and drums with his feet. But something always seemed to be missing. Kurz then moved on, playing drums for The Livingbrooks. After moving to Oneonta, NY in 2002, singing for the Gimme 5 became his primary focus.
One man band shows were few and far between, usually played to make money when his other bands couldn't make a date. There were many incarnations as well. At some point Kurz switched to playing bass, instead of guitar, and playing organ solos with the headstock of his bass, drums with the feet. There was even a shortlived Brooks/Valentine style duo called the Goods, with the amazing Heather Jellison on guitar. But something was always missing from the one man act.
After falling in love with Sarah Lynn, and moving to Richmond, VA, Kurz found he had alot of time on his hands. He used that time to learn how to play the bass with his left foot and the snare AND bass drums with his right. As well as the guitar AND keyboard at once. Finnally Matt Kurz's dream was realized, he was a full band, utilizing all the tricks from all his previous incarnations to become the Matt Kurz One you know and love today.
Click here for a hi-resolution press photo.
Click here for a hi-resolution logo.
ALBUMS:
If You Can't Join 'Em... Beat 'Em (2006)
Impending Doom is No Excuse! (2007)
SHOWS:

Warning: include(/hsphere/local/home/asobrock/quoteunquoterecords.com/php/show_news.php): failed to open stream: No such file or directory in /home4/asobrock/public_html/mk1.php on line 117

Warning: include(): Failed opening '/hsphere/local/home/asobrock/quoteunquoterecords.com/php/show_news.php' for inclusion (include_path='.:/opt/php56/lib/php') in /home4/asobrock/public_html/mk1.php on line 117