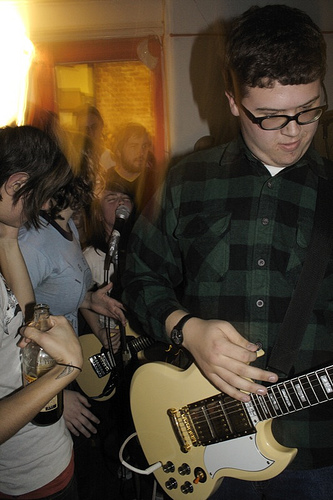 Angie Boylan - Drums
Brian Schleyer - Guitar
Kate Eldridge - Guitar & Vocals
Kate Wadkins - Bass & Vocals

Instead of a writing a poorly written bio, we would like to direct your attention to a review of the new Cheeky record from ifyoumakeit.com from Mike Campbell:

"Cheeky is punk. Lyrically, they pull off being both confrontational and recklessly goofy, with a vocal delivery recalling The Descendents, and guitar leads ala "Sorry Ma"-era Replacements (Eldridge has a penchant for the 'Mats). I saw them play recently at the Tompkins house, and their gang-vocals "Your shit sucks," and "Get outta here! Leave me alone!" were shouted back at them by the finger-pointers in the room. And they covered "Coffee Mug." The kids love Cheeky.

"Choke on a Cheeseburger," the band's first record, is a six-song EP of bouncy pop-punk recorded by master-thrasher Phil Douglas. Track 2, "Small Snails," describes the boys-club element of hardcore and wittily ends by going through some musical clichés of the genre – the breakdown, the fast beat, and the breakdown ending. "Grow Fins, Turkey" is the hookiest track, with a lead guitar line you don't want to end, it's so fucking catchy. "Bad Mood" closes the EP. A punchy mid-tempo ditty that is perhaps the most Descendents-esque, even quoting "Everything Sucks," and is about being just plain pissed off.

Buy "Choke on a Cheeseburger." It's three bucks, and you can get it on their MySpace page (http://www.myspace.com/cheekyli). Go see them play. Odds are, they're playing next weekend in Brooklyn, because these girls and guy play a lot."
ALBUMS:
Choke on a Cheeseburger (2007)
SHOWS: