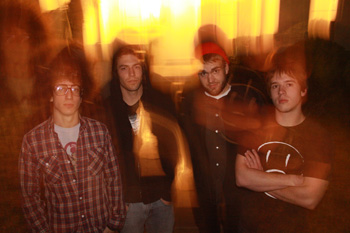 Chotto Ghetto was assembled in 2005. Since the band's first show with famed punk veterans Mike Park and Kevin Seconds, they have consistently toured on the West Coast with both punk and indie acts, including a highly successful major East Coast and Midwest tour with friends Bomb the Music Industry.
The band, made up of Chris Candy, Jody Giachello, Fletcher Alliston, and Chris Shilakes, have recently finished their 3rd EP, Walk is Godlike, a follow-up to their self-released Shootin' Devils EP and Quote Unquote Records released Rampage EP of 2007. Upon the EP's release, the band plans to tour extensively, continuing to bring unique, high intensity music to their listeners.
Click here for a hi-resolution press photo.
Click here for a hi-resolution logo.
ALBUMS:
Shootin' Devils (2007)
TBA EP (2007)
SHOWS:

Warning: include(/hsphere/local/home/asobrock/quoteunquoterecords.com/php/show_news.php): failed to open stream: No such file or directory in /home4/asobrock/public_html/cg.php on line 114

Warning: include(): Failed opening '/hsphere/local/home/asobrock/quoteunquoterecords.com/php/show_news.php' for inclusion (include_path='.:/opt/php56/lib/php') in /home4/asobrock/public_html/cg.php on line 114